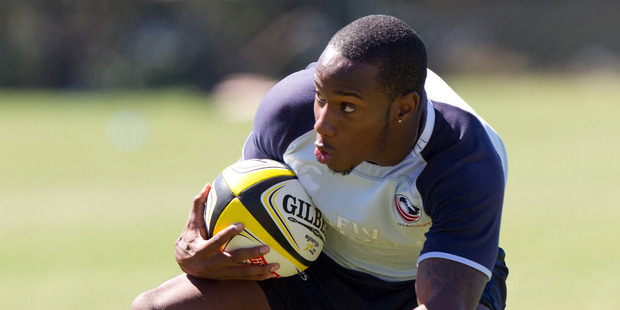 Sevens rugby fans can breathe a sigh of relief - Carlin Isles, the fastest man in rugby, is staying put and feels more like a rugby player than ever before.
Isles lit up the Sevens World Series in 2012-13 with his searing pace that had many pointing to him as the game's next superstar.
In January he signed a practice contract with NFL team, the Detroit Lions, leading many to think a switch to American football was imminent. Despite the speculation Isles confirmed to the Herald that he would be sticking with a sport where he was able to inspire others.
"I'm at that crossroad right now, I've gotta choose one or the other. That's been kinda stressful," Isles said.
"It's always in the back of my mind. I'm here to do a job and I love rugby. For me right now I'm thinking about sticking to rugby. Rugby has been a blessing to me.
"For me I love rugby and I'm not going to let football factor in m mind now.
I love rugby and that's the main focus."
While the pressures of converting to what is seen to be a more conventional sport in America were often quite high for the 24-year-old, Isles said it was a love of rugby and God that helped him overcome any internal angst caused by the difficult decision.
"Whenever I play and I can showcase what I can do that also helps me keep my mind off it, because it shows how happy I am when I'm on the field and the fun that I have out there.
"To give it up for God's glory, for people to recognise that and see my talent takes the pressure off me."
The former track star with a personal best of 10.13 seconds for the 100m sprint said he wasn't feeling any different from a year ago when he was introduced to the rugby-mad country at the 2013 Wellington Sevens.
Isles illustrated his worth as an all-round Sevens player in the Las Vegas Sevens, where he stripped an Argentinean of the ball before he passed inside and eventually ran 70 metres to equalise. Argentina would go on to win 19-12, but Isles had proved himself to his nation of his exceptional skillset.
His graduation into the starting seven illustrates the confidence that he has in the team, and - more importantly - the confidence they have in him heading into his second appearance in Wellington.
"I've learned a lot. I've just gotten used to finally being comfortable doing things I normally wouldn't do. I'm just being able to actually be confident in being a true rugby player."
One of the major spinoffs of keeping the Ohio-born Isles in rugby was helping to grow the sport in his homeland and be a part of something special with the USA Eagles.
"I think I can help it grow a lot, man. From what I've heard I've already helped it grow and I think I can make it grow even more popular than it is now.
"For me, that's a big thing and it makes me happy that I can do that and I want to make it grow even more."
Isles pledged to "put on a show" at the two-day sporting event, starting with the Eagles' first match against Argentina