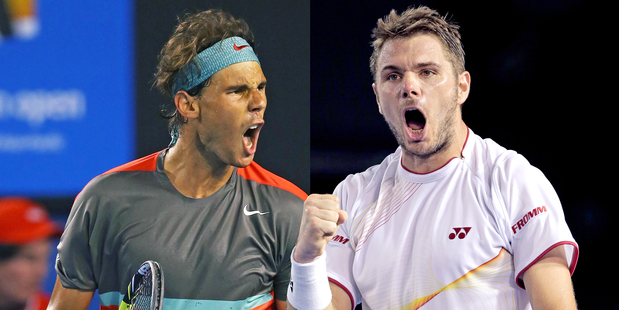 Cold, hard statistics insist Stanislas Wawrinka cannot win the Australian Open over world No1 Rafael Nadal at Melbourne Park tonight.
Contesting his first grand slam final, the Swiss must defy a daunting set of numbers to upstage the Spanish powerhouse. The 99th man to contest a grand slam final in the Open era, Wawrinka must defy history to upstage Nadal.
Consider the figures. In 12 matches against Nadal since 2007, Wawrinka is yet to seriously threaten, not only losing every single match but failing to win any of the 26 sets contested.
On hardcourt, the record is 6-0 in Nadal's favour and, in the pair's only grand slam clash, Wawrinka claimed a mere six games (on clay) at last year's French Open.
Overwhelmingly, Nadal has the upper hand in every single aspect - experience, expertise and standing. A rank outsider, Wawrinka has the backing of a tiny minority.
Among them is the ever-wary Nadal who, after sweeping into his 19th major final with a clinical semifinal win over Roger Federer, insists history will have no bearing on tonight's encounter.
"Grand slam final, that's a different kind of match than I played against him in the past," Nadal said. "He's playing better than ever. Is not a question of winning one or two ... is a question that he's a player that is ready to win against everybody today.
"If I don't play my best tennis, I am sure that he will win three sets against me. I am really focused that I know that I need to play like against Federer and if not I will not have a chance to win the final ... is not the final that I think playing normal I going to win; I need to play my best."
If successful, Nadal will become only the third player in history to win all four majors at least twice. Only Queenslanders Roy Emerson and Rod Laver have previously achieved the feat. Nadal is also on course to join American Pete Sampras in second place with 14 majors on the all-time grand slam list behind Federer (17) - and he will become the youngest to reach the milestone.
At 27, the Mallorcan already has a phenomenal record - a record eight French crowns, two Wimbledon trophies, two US Open titles and the 2009 Australian Open.
Sidelined for seven months after Wimbledon 2012, the left-hander has returned to spectacularly dominate the sport with 11 titles in 16 tournaments. But despite historical superiority over Wawrinka, the cautious Spaniard respects the Swiss strokemaker immensely.
"He's playing great," Nadal said. "I know him. He's a good friend, great guy. So happy for him that he's in the final. He deserves it. He's playing better and better every year. He's serving unbelievable. He's hitting the ball very strong from the baseline. Very, very quick ... it's very difficult to play against him.
"I know it will be a very, very tough match. If I am not able to play my best, I think I will not have chances because he's coming to this match with a lot of victories."
It is not just lip service. Wawrinka snuffed out defending champion Novak Djokovic's three-year reign as Melbourne Park champion before overwhelming 2010 Wimbledon finalist Tomas Berdych in the semifinals. Now assured of overtaking Federer in the rankings, and having out-performed his mentor in two successive majors, Wawrinka is recast from journeyman to high quality finished article.
Although he is yet to take a set from Nadal, there is a positive trend emerging. In the pair's two most recent matches, Wawrinka has forced tiebreaks - evidence of growing competitiveness.
Asked about the transformation from nearly man to legitimate contender, Wawrinka has a simple explanation: "This time it's because I'm at the top of my career. Already last year I had the feeling that I was playing better, but I was dealing better with the pressure also. I'm more mature.
"I'm 28 now. I'm on the tour since 10 years. Now I feel that it's my time to play my best tennis. I'm enjoying more what I'm doing, when I'm winning, and also maybe I know more how to deal with all the pressure around.
"I didn't expect to make a final in grand slam in my career. I'm working really hard since many years, try to improve my game, try to get some big match in big stadium. Now I'm the first final in a grand slam, so I can be only really happy.
"I know that I'm playing my best tennis. I'm moving well. I'm really aggressive. I'm serving well. I always find solution. So that's where I take confidence, the solution."
Wawrinka will attempt to become the first man to win a maiden major final since Juan Martin Del Potro at the 2009 US Open final. Having ended a 14-match losing streak against Djokovic, he enters the fray for the 13th time against the highly superstitious Nadal.
Maybe, just maybe, he can make a mockery of the numbers. Sunday Telegraph, Sydney