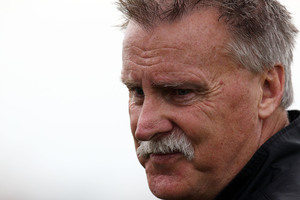 All Whites manager Brian Turner says the board of New Zealand Football have made financial decisions that haunt the national team because the commercial basis for international games "can't work".
Turner, guest speaker at the yearly state-of-the-football-nation function hosted by the Cambridge Football Club before last weekend's ASB Premiership match between Waikato-Bay of Plenty and Auckland City, talked on the record, was filmed doing so, and most of his comments were reproduced on in-the-back-of-the-net, a blog written by grassroots football enthusiast Enzo Giordani.
Turner was quoted as saying: "The board have made decisions in the last four or five years for football in New Zealand that come back and haunt the national coach with what he's doing, and it's not right ... I mean, the people who make those decisions, the people who said that the players can travel business class, the players can have 40 per cent of the prize money and all those sorts of things - they have to be held accountable for those things because now in the game, commercially you can't get games to work.
"Every time you sit down and say okay, we're going to play Trinidad and Tobago, we've got $250,000 airfares before we start because the players travel business class. So to offset some of your airfare costs, you say to the nation you are going to play, 'well, give us a match fee'. So you might get $50,000, so you're still up for $200,000 to play an international game of football ... and the board made those decisions four years ago."
Turner said the board also made the decision not to play the Nations Cup in New Zealand because it was going to cost $600,000. They gambled instead on winning entry to the Confederations Cup which would have tipped US$2 million into NZF's coffers.
"The board said no, we're not going to take that risk [of hosting the Nations Cup], so we go to Honiara and we get beaten in the most unbelievable conditions that you could ever imagine.
"I actually sat down with Frank [van Hattum], the chairman of New Zealand Football, last Monday and I said to him, mate, the board has lost touch with what is required at international level. The board gave a certain amount of money to the programme [qualification for Brazil], and it was $250,000. But if you can imagine that, we're going to play a few games, it doesn't go too far, when again we're travelling business class - so we were woefully short of money. That hampered our preparation."
Turner said money was "the biggest problem" for New Zealand Football: "It doesn't generate enough money to run the game. It was the same when John [Adshead] was involved, and it's the same now. It's a battle of fixing it there, and fixing it there, with a little bit there, and a little bit there ... The game needs money. It needs investment. The more you go forward in football, the more money you've got to spend.
"The amount of money that we invest into football, we so much punch above our weight it's not funny. But it's not possible to keep doing that.
"I said to [coach] Ricki [Herbert] when we were in South Africa, one day this is going to be our nemesis because, when we drew 1-1 with Italy, people will expect us now to play anybody and get those sort of results - but it's never going to happen on a regular basis unless you have all the things in place, and all the infrastructure to move forward."
Van Hattum has just announced he is stepping down as NZF chairman after almost six years and said on Friday: "Football's in good heart. It's financially sound, it's sustainable and there is a progressive plan ... I think the legacy is that the game was close to financial insolvency back in 2007 and look at the progress we have made."
Turner also said he believed New Zealand football would progress if NZF moved out of the Oceania confederation and into Asia - but acknowledged it would give NZF a financial and achievements headache in the short-term.
"We won't qualify for World Cups [in the Asian confederation, we won't qualify for age group World Cups like we do now. In Oceania, we qualify all the time so our under-17s and under-20s go to basically every World Cup. You're not going to do that if you go into Asia but I do think that for the All Whites to prosper, that's a really important thing - but it's hard for the board of NZF to decide which way to go.
"Because if they go to Asia, it's going to cost them bucket-loads of money. Even Australia are struggling financially and their teams have very rarely qualified for World Cups in recent years."
Turner also said Neil Emblen, player-coach of Western Springs and manager of the New Zealand Olympic football team, had "every chance" of replacing Herbert as the next coach of the All Whites - but doubted the ASB Premiership would produce a coach or players for the national team in the short term.
"Where would you find someone in the ASB Premiership to coach at international level? Once you get up to that level, you've got to know your stuff." Turner said. "You've got to fly by the seat of your pants sometimes and the thing gets pretty hot when you're under the pump and people are raining down on the goal and you're 1-0 down and you've got to make good, quick, sound decisions."
He said not every ASB Premiership team had the belief or desire to think that their first priority was preparing players for the national team.
"You're not going to see many players come straight out of the ASB Premiership and go into the national team. If you look at the players that have really made it in football, other than Ryan [Nelsen], they all go to clubs in Europe and they make their names there."