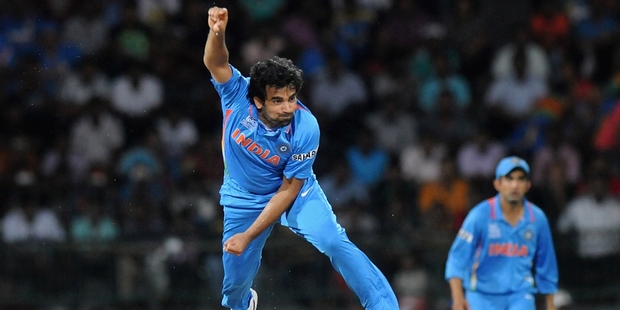 The chance for India's test bowlers to excel on green pitches, the visitors' adjustment to smaller New Zealand grounds and disappointment at the lack of a three-test series are the pressing issues for two Indian cricketing greats ahead of the current series.
Former captains Kapil Dev and Sourav Ganguly are both steeped in the Kiwi experience. Kapil toured New Zealand four times between 1981 and 1994 in a career where he surpassed Sir Richard Hadlee as the world record test wicket-taker with 434 victims. He is the only test cricketer to reach 5000 runs and 400 wickets.
As a bowler, Kapil is remembered for his late outswinger but he struggled in New Zealand. In seven tests, he took 15 wickets at 42.13 and nine wickets at 37.44 in nine ODIs.
Greener, seamer-friendly pitches have been touted for the upcoming test series because of the theory they'll favour New Zealand's pace attack. Kapil says that's a threat which could also play to Indian strengths.
"Judging by the way they played against the West Indies, the New Zealand bowlers are capable of doing damage," he says. "It's tougher for them in our back yard, therefore it's not going to be easy for our batsmen over there. However, given the way the likes of Virat Kohli and Cheteshwar Pujara performed in South Africa, there's no doubt they have the talent to match.
"New Zealand won't have it their own way either against our pace bowling. The pitches will play a big role determining how the series plays out. I just hope they're sporting to both teams."
Ganguly led India to 2-0 test and 5-2 one-day series losses under coach John Wright in 2002-03. Less than five complete days out of 10 were played in the tests due to inclement weather and batting collapses. Only one innings in eight passed 200.
Ganguly says green pitches are fine as long as they're fair to both sets of batsmen.
"If there's grass, it will be a good test for India because New Zealand have some quality bowlers. I saw [Trent] Boult and [Tim] Southee bowl well on turning pitches in India; at home, they'll be strong.
"The flip side is the Indian attack containing experienced heads like Zaheer Khan and Ishant Sharma, along with newcomer Mohammed Shami. They could also be a serious threat. The grass could be good for India rather than having their traditional flat batting pitches. They will be in contention to win the tests regardless.
"One area where New Zealand might struggle is with the absence of Daniel Vettori.
"He's a top-class spinner, capable of backing up the seam bowlers by keeping it tight, plus he contributes significantly with the bat."
Ganguly averaged 27.71 in four tests played in New Zealand, compared to a career average of 42.17. In 12 one-dayers, he averaged 22.16 compared to his overall 41.02.
He wouldn't like to see the extremes of 11 years ago.
"That was an amazing tour. The wickets were green, damp and unbelievably poor. Both teams were struggling to scrape together 100 runs. I don't think that makes for fair cricket. A good covering of grass is fine, as long as both batting line-ups get a fair chance."
Both former skippers agree the prospect of their compatriots playing on multi-purpose rather than cricket-specific grounds presents challenges.
"We always enjoyed touring New Zealand," Ganguly says. "But the grounds are small and I'd expect the one-dayers, in particular, to be high-scoring. Batsmen like Kohli, [Rohit] Sharma and [Suresh] Raina are capable of hitting a long way."
"The grounds are one of the most difficult things to adapt to in New Zealand," says Kapil.
"The rugby grounds [like the rectangular Eden Park and McLean Park] are so different in terms of boundary shape but, then again, cricket professionals have to adapt."
Despite indications two-test series are becoming de rigueur against nations outside the big four of Australia, England, South Africa and India, Kapil and Ganguly agree such contests can leave a series unfulfilled.
"I know it depends on financial issues but more than two matches is always good," Kapil says. "I imagine the ODI and T20 fixtures bring in valuable income but test cricket must remain the pinnacle. Creating more tests must be looked at more closely."
"I'm a firm believer in having at least three tests in a series," says Ganguly, "because teams need a chance to come back if they lose the first."