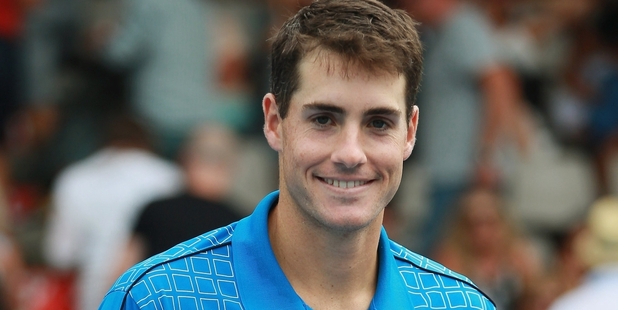 The most destructive weapon in tennis took John Isner to a second Heineken Open title yesterday - and may carry him back to the top 10 in the world.
As had been the case all week, Isner was imperious from the service line, with regular 220km/h bullets helping him negotiate any tough moments.
Across more than 100 minutes of tennis, the American gave Yen-Hsun Lu only one break-point opportunity - in his first service game - which he defended with ease.
There were some tight moments in the second set tiebreak, as Isner trailed 0-3 at one point, but a series of unreturnable serves got him out of trouble.
Lu was gallant, and played some extraordinary tennis to save 10 break points, but was left in awe of Isner's serve, which he labelled the best in the world.
"Right now, yes, I think he's [got] the best one," said Lu. "He has proved he's the best server. He just served incredible [and] I couldn't read his serve.
Even sometimes I guessed right but the speed meant I couldn't really get it back. He's still No14 in the world and his serve is his main weapon."
Isner sent down 23 aces, including one in excess of 230km/h, and landed 73 per cent of his first serves. Lu won only eight of 59 points when Isner pulled off his first serve.
"It was my best performance all week and, as always, I relied on my serve a lot," said Isner, who served more aces (979) and saved more break points (71 per cent) than any other player on the ATP tour in 2013.
"Against him, even in [your] service game, [you] have pressure," said Lu. "If you don't make your first serve, then you are always under pressure in the second serve because he will try to smash it. If you can serve like him, it's a different story."
While yesterday's match had its routine elements - Lu fought hard but never looked like creating an opening - Isner has fought the odds, and a persistent ankle injury, all week. He recovered from a set and break down in the semifinal and endured a three-tiebreak struggle in the quarter-final.
"I am so happy," reflected Isner. "To say this was unexpected coming into this tournament would be a huge understatement."
Yesterday was Isner's eighth ATP title but only his second outside the US (his first was at this tournament in 2010) and he hopes it will propel him to a strong Australian Open performance.
"I haven't performed that well in the Slams in the last few years," admitted Isner. "The best Australian Open I have ever had was after I won this in 2010 [fourth round], so I will go [to Melbourne] with a lot of confidence. Players will tell you [confidence] is hard to come by and I have that ... [as] one of the few players going into that event on a win streak. I have that on my side and will use that to my advantage."
Isner also believes he can return to the top 10 this year, after an injury-interrupted 2013.
"I missed the whole Australian swing last year and didn't do anything until April so I can only move forward from here, and it is a very good sign," said Isner. "I don't want to just say I was top 10 for 'a cup of coffee', I want to be there for a bit longer and it is up to me to get back to that point."
There were fears that Lu might be overawed yesterday - in his first ATP final - but he showed all of the fight that has characterised his week. Isner took the first set tiebreak with relative ease, opening up a 5-2 lead with a huge ace and eventually taking it 7-4. The second set tiebreak produced the most drama of the match.
Lu took a mini-break for an early 3-0 lead, and was cheered on by a vocal Taiwanese contingent. He had chances but a double fault at 5-5 and then a missed volley proved terminal, as Isner took the set and the match with - surprise, surprise - a 229km/h thunderous serve.
2014 Heineken Open singles final: John Isner defeated Yen-Hsun Lu 7-6 (4) 7-6 (7).