The Australian Open tennis tournament begins tomorrow, the first of the four tennis majors for 2014. Paul Lewis looks at the main prospects, the hopefuls and the roughies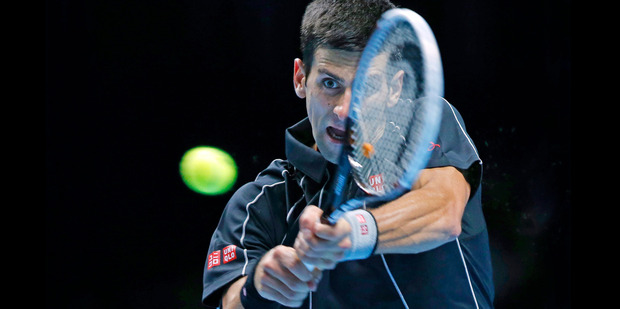 Watch, in the 2014 Australian Open, to see if a more attacking Novak Djokovic emerges.
That is one conclusion to be drawn from the Serbian world No 2's surprise appointment of Boris Becker as his coach last month. The German, six times a Grand Slam winner, was a renowned serve and volley exponent who played aggressive, attacking tennis but has never coached before.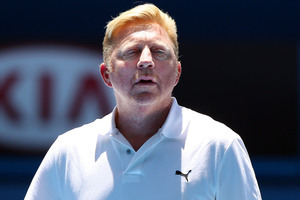 Djokovic is primarily a baseliner, producing some extraordinary tennis from well back in the court; his attritional style plus mobility and determination is successful and hard to combat.
Which makes it all the more remarkable that he has only an average win-loss record in Grand Slam finals compared to others who can clearly wear the mantle of greatness. Djokovic has played four, won four in Australian Open finals but his overall record in Grand Slams is only 6-6. That includes a surprising 1-4 record in US Open finals, a hardcourt tournament which should suit him.
His great rival, world No 1 Rafael Nadal, has 13 wins and five losses in Grand Slam finals; Roger Federer 17 wins and seven losses; and the great Pete Sampras had 14 wins and four losses.
For a player like Djokovic - clearly the man to beat as he goes for his fourth Australian Open title in a row, closing in on Roy Emerson's record of five in a row (and six titles overall) - a 50-50 record in Grand Slam finals may not be good enough.
He may well feel it could bar the door to the greatness he seeks, particularly as his overall win-loss record against the others in the world top 5 is clearly in the black.
So it will be intriguing to see if Djokovic picks up his play at the net and cranks up the number of volleys and other shots from the front of the court. Even without that, he is the man to beat - he is on a run of 22 successive victories.
He is still only 26 and has won his last four tournaments. He last lost (to Nadal) in September (the US Open final) and the fast-paced Australian courts suit his game as he blasts away, the speedy surface helping him to melt down his opponents into large pools of sweat as they commit gathering numbers of errors.
His fitness and grit mean he lasts the gruelling pace of this best-of-five sets competition; the winner has to play seven matches in Melbourne's sweltering sauna.
Beat him if you can.

Djokovic also fits perfectly the predictability scenario of the Australian Open. Of all the tennis majors, it should be the toughest to predict. It's early season, rust is apparent, upsets aplenty occur and uncertainty rules as form has not had enough time to cement itself in a player's confidence psyche; plus Melbourne gets so hot it is possible to fry the proverbial egg on your forehead, never mind the pavement.
Yet in the past 10 years, 26 of the 30 finalists have come from the top five seeds.
Only three non-seeded players have made the final in that period and Marcos Baghdatis, Marat Safin and Jo-Wilfried Tsonga (the 10th seed this year) all went on to earn high world rankings.
It's the other bloke - Nadal - who looms as the biggest threat and who is this writer's prediction to win, particularly if Djokovic tries to adopt a new style this year.
Nadal, the world No 1, had a fantastic 2013, also adopting a more aggressive style of play (taking the ball earlier and finishing points faster to save his ageing knees).
Nadal lost an amazing not-quite-six-hour Australian Open final in five sets to Djokovic last year but went on to collect 10 titles, including the French and US Opens, beating Djokovic both times. He will have Aussie Open revenge in mind.
Nadal won the Qatar Exxon Mobil Open in Doha last week - the first time in his career he has opened the season with a tournament victory.
After a generously relaxing off season, he started rustily in Doha but battled away in the early rounds - winning ugly, but winning. He then overcame mercurially brilliant Frenchman Gael Monfils in the final when Monfils was having one of his better, more disciplined days. It was an impressive dress rehearsal for Melbourne.

Contenders
So, Nadal vs Djokovic in the final (no great crystal ball powers required there) - but could anyone else intervene? The tournament's other major prospects are:
» Andy Murray: Is still recovering from injury, his Wimbledon and 2012 US Open titles have given him belief. He will be dangerous as the draw will allow him to gather pace through the early rounds and play himself into form -but he doesn't appeal as the 2014 winner.
» Roger Federer: The Swiss star arrived in Australia speaking confidently about his relief from back pain and his determination to prove he could still beat the best. But he lost in embarrassing fashion to Australian comeback king Lleyton Hewitt in Brisbane last week. A four-time winner and semifinalist or better for 10 years in a row at Melbourne, this will be a test whether the 32-year-old is over the hill or still plugging up the other side.
» Juan Martin del Potro: Perhaps the most dangerous of "the others". That magnificent forehand is a cannonball- the best in the world when it's on. He can beat anyone on his day and has fought back doggedly from his wrist injury to once again be in the top 5 in the world. His weakness: his return of service game is not as strong as the others and he often struggles to break them. Unlike Nadal and Djokovic, he will have to beat Nadal and Djokovic to win.
» Tomas Berdych: Has made the quarter-finals in Melbourne for the past three years and the Czech played a key role in the Davis Cup win over Serbia (including Djokovic) and had wins over Djokovic, Murray and Federer in tournament play. Weakness: The Davis Cup final meant he had a long season last year and he also has tended to lose his way when pitted against the best.
» Stanislav Wawrinka: Won the Chennai tournament as a buildup for this, adding to a 2013 season when he really built up confidence and self-belief and even challenged to become the leading Swiss player in international tennis. A big server with a powerful backhand, he climbed to 8 in the world last year. Mental strength will be his major challenge in Melbourne.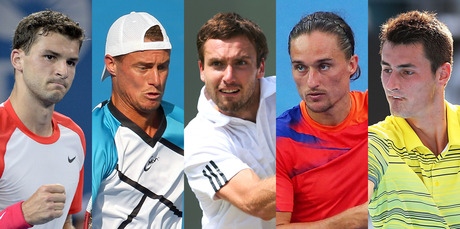 Long shots
There will be any number of big servers (usually big men) who will do well in the early rounds, using the pace of the courts to play to their strengths - John Isner, Milos Raonic, Jerzy Janowicz - but many such players tend not to do so well returning serve.
That often means they have long matches and can be found wanting in physical terms in the latter rounds and when they face players against whom mobility and touch are necessities.
Having said that, none of these long shots are considered likely winners, but they have the ability to go on a run which may unseat more fancied candidates and delight anyone supporting them at the bookies.
» Ernests Gulbis: Still only 25, he is brilliant ... and frustratingly inconsistent. Can beat anyone and be beaten by anyone. He has a superb backhand, one of the best, but needs to keep his serve and forehand sharp.
» Jerzy Janowicz: Unlike many of the big men (he is 2.04m tall), he can move and he has some fine, subtle touches in his strokes. Long picked to be a high world-ranked player, his temperament has got in the way so far; he had a screaming meltdown in the second round at Melbourne last year.
» Bernard Tomic: He is another with undoubted ability but suspect mental strength. The bad boy of Australian tennis faces a tough start against Nadal in the first round but has shown he can play well in Melbourne.
» Lleyton Hewitt: At 32, still the best-ranked Australian player, his win over Federer showed he has recovered from the painful arthritic toe which was part of five operations he suffered in the past six years through injuries. Beat del Potro (twice), Wawrinka and Grigor Dimitrov among others last year and a real chance if his win over Federer was no fluke.
» Grigor Dimitrov: Saddled with the label "Baby Federer" at his emergence and has done little to justify that elite tag, even with a ranking of 23 in the world. He might be ready to end a disappointing run of early exits at Slam events. Has beaten Djokovic and given Nadal a fright and has strokes redolent of Federer, hence the premature nickname. Still only 22, he is Maria Sharapova's current boyfriend.