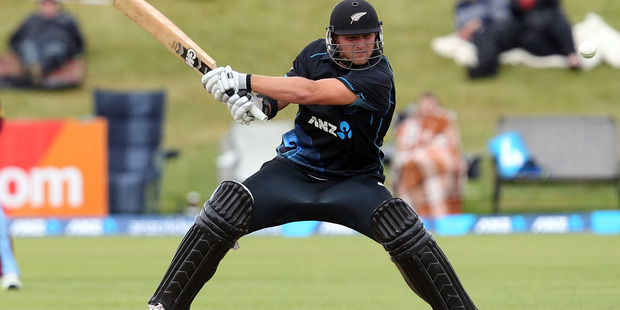 Jesse Ryder is back - but he was somehow overshadowed by a 23-year-old in his seventh one day international.
Corey Anderson stroked a scarcely-believable innings of 131 not out in New Zealand's win over the West Indies at Queenstown today, breaking the world record for the fastest ODI century.
His ton came off 36 balls, beating Shahid Afridi's 18-year-old record by one delivery. His stay at the crease lasted 51 minutes and spanned 41 balls, good for a strike rate of 279.
He hit 14 sixes, falling two short of the all-time mark. But numbers alone can hardly do justice to a display of hitting that was as brutal as it was sustained.
"I guess it's one of those things that you never really plan on doing when you go out there,'' Anderson said after his knock. ``It's nice to have that feeling when you're out there and getting the out of the middle.''
Relegated to something of a footnote amid all the carnage was Ryder. His century took a comparative eternity - 46 balls, good for sixth-fastest ever.
They were Ryder's first runs in international cricket in almost two years, and his first ton since February 2011, ensuring the New Year began in a much brighter fashion than his previous 12 months.
Then there was the match itself. The Black Caps racked up 283-4 and won by 160 runs, for the record, levelling the series at one with two games to come.
After steady rain fell all morning, the contest was reduced to 21 overs aside, paving the way for the type of power hitting that must make a bowler wonder why he even bothered.
New Zealand took just five from the first over, the fewest in the innings, and Martin Guptill fell cheaply in the second. Then the fun began.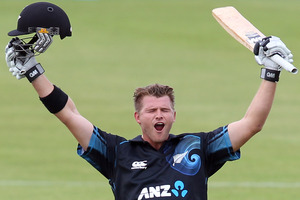 Brendon McCullum set the tone, hitting boundaries from his first five balls before holing out for 33 from 11, evoking memories of his 28-ball 80 at the same venue six years prior. Ross Taylor's stay was brief but, in hindsight, his wicket was a blessing. It brought Anderson to the crease.
Ryder was already on 41 by that point, demonstrating equal parts force and finesse. In one Ravi Rampaul over - who finished with the sorry figures of 0-64 from three - Ryder opened the blade to run one down past third man before swivelling to pull off his hips for consecutive boundaries.
The opener's timing was impeccable and his hitting clean, bringing up his fastest ever 50 with a straight six. But he was soon surpassed by the man standing at the other end.
Initially, Anderson seemed set to play foil, feeding the strike to Ryder and taking only six runs from his first six balls. But he seemed to find another gear in the 13th over, smashing Sunil Narine over the fence on four occasions and relegating the world's No 1 ODI bowler to little more than a spectator.
Anderson caught up to Ryder in just 24 minutes, amassing a century stand in 42 deliveries. The 15th over featured another quartet of sixes from the all-rounder, before he brought up his ton in appropriate style, pulling Nikita Miller over the long leg boundary.
Ryder was dismissed for 104 in the final over, ending the partnership at 191, but the damage was well and truly done.
"I think we went pretty good together, I guess,'' Anderson said. "I was hitting boundaries and he was hitting boundaries - it was just one of those things that comes off.
"We couldn't really say too much (in the middle). `Shot, bro', that's about it.''
SCOREBOARD

- APNZ