Many Kiwis have given their sporting all for great causes in 2013. Peter Thornton picks nine of the best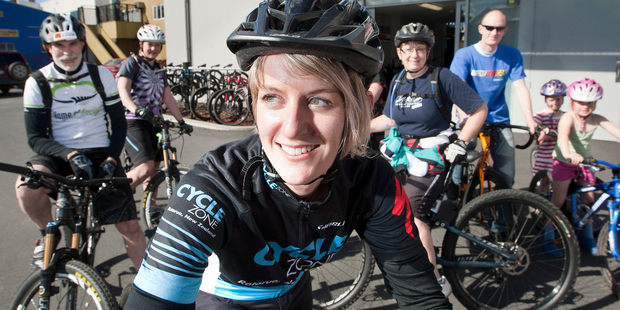 Mike Tennent
In May, Rotorua runner Tennent, 54, began a year of his life he will never forget. The business director committed to running a half-marathon (or longer) every week for 52 weeks for Hospice. His journey began on his birthday on May 4 and he will finish with the 50th anniversary of the Rotorua Marathon on May 3 next year. Tennent's original goal was to raise more than $20,000 for Hospice but he looks set to smash that. "People like Mal Laws, with his running all over New Zealand and last year in England, made me think, 'What could I do that would make people sit up and take notice ... and dig into their wallets?' Also a touch of the 'something to tell my grandkids about' - if I ever get any!" Tennent said. "It wasn't until my mother got a brain tumour that I really got to understand how wonderful the Hospice are. They swung into gear with in-home help for her and when she got too much to handle at home she moved in to Hospice for the last few days of her life. Last year I moved way out of my comfort zone in running the 60km Tarawera Ultra Marathon and raised $5100 for Hospice ... This year I wanted to go one better."
Kelly Shrimpton
Some sports challenges don't involve events - some are more personal than that. Rotorua mountain biker Shrimpton rode 31km every day for the 31 days of October. It was all for love and a good cause - Leukaemia and Blood Cancer New Zealand, which supports patients and their families living with leukaemia, lymphoma, myeloma and related blood conditions. In 2006, Shrimpton's partner Nick Bolton was diagnosed with lymphoma and died a month later. He was just 31. "It took a long time to deal with his death," she said. "We had plans ... all the dreams, that was the end. It took me a long time to figure out what I wanted to do." On a ride this year, on what would have been Nick's birthday, Shrimpton came up with the idea for the epic mountain biking fundraiser. "I wanted to do something and Rotorua's wonderful mountain biking trails provided the inspiration." Kelly and Nick, who was English, met in Rotorua and when his work visa ran out in 2006, they headed to Ireland. They were in Dublin when he began to feel unwell. He insisted Kelly return to New Zealand while he went to Britain to try to find out what was wrong. A week later he was diagnosed with non-Hodgkin's lymphoma. He told her he thought he would get well and would join her in New Zealand. He died the following month. "It was a very tough time," said Kelly on reflection. "It made me realise how hard it is for people going through these terrible illnesses, so if I can do anything to help I will." The 34-year-old rode 961km in four weeks.
Sarah-Jayne Chamberlain
There were tears of sadness but also relief when Chamberlain, 27, discovered she had multiple sclerosis. "It sounds strange but to actually have a diagnosis that made sense - and at the same time knowing there was no cure - was a bit overwhelming," said Chamberlain, who is known to friends and family as SJ. The Aucklander had suffered from severe headaches since she was a teenager. At 19 she was diagnosed with chronic fatigue syndrome. She lost vision in her left eye during university exams and had problems lifting her left foot. Then, in January last year, she started boxing classes with a personal trainer. The result was a left arm that felt odd. More visits to doctors followed, but six weeks later with legs feeling like jelly, she went to A&E at Auckland City Hospital. A MRI scan revealed the truth. "You could say I was unwell for nine years before finally being diagnosed," she said. But SJ resolved to not let it beat her and this year she took on a different sort of challenge - the 50km option of the Bike the Bridge last month. It's a once-a-year opportunity to cycle across the Auckland Harbour Bridge and is a fundraiser for MS Auckland. "I just want to prove that I can still do things and I want to raise more awareness of exactly what MS is." Issues with arm and leg strength, vision and fatigue are some of the symptoms that make any exercise a challenge. "MS means I have to think twice about what I can and can't do. It's easier to think you can still go on as normal and most the time you can, but sometimes I have to step back and let myself recover."
Elaine Webb
When Webb is battling to run up a hill, or is not at her best on her daily 20km run, her mind draws strength from what her 2-year-old son Alex has been through. He was born after only 33 weeks' gestation and spent 51 days at the neonatal intensive care unit (NICU) at Auckland City Hospital. He is why she runs and he is why she never gives up. The mother of three aims to run 720km in 51 days - which represents the distance and days spent in visiting Alex in the NICU - to raise money and awareness for the facility. Webb wants to raise at least $6000 - enough for the NICU to fit two more rooms with basic equipment. It would enable more families to stay throughout their babies' time of medical care. Her incredible running mission began on Friday November 30 - her son's birthday - and will finish on January 17 when she will do a 51km run to finish her 720km marathon effort. "There are definitely mornings when I am not leaping out of bed for a run," said Webb with a laugh. "But when I think about the reason I am doing it the pain and aches go away. I am not going to give up because I remember how hard that time was as a family, that the toughest part was having to leave, and I want to help change that. This [fundraiser] will hopefully mean that when a baby becomes sick the parents can stay close. I can't tell you how much that would have helped us on our journey."
Warren Bernard
Bernard, a clinical psychologist from Napier, hopes to change the world one step at a time. He plans to run 20 marathons in 20 months around New Zealand to fundraise for LIV Village - a charity in Africa that rescues and cares for vulnerable children. The 31-year-old was inspired to take on the challenge when he saw a video of LIV village on a friend's Facebook page. "I think being a dad, it really hit home," he said. "They say becoming a dad changes how you see the world. I guess this was an unexpected example of that. I instantly felt I needed to help in some way and I really enjoy running, so the idea was born." He doesn't have any link to LIV Village but was really inspired by their work. "My wife and I were both born in South Africa. Our children were born here in New Zealand and we have recently been granted New Zealand citizenship. We feel blessed to be able to raise our family in this beautiful country and the hope is that by supporting LIV Village we can bless others. How awesome would it be for the LIV Village kids to know that people halfway around the world care and support them?"
David Williams
Williams is a man on a mission for mental health. The 28-year-old teacher from Edgewater College in Pakuranga is focused on becoming the first person to climb the highest mountain in every continent in the world from sea level. He completed stage one of seven in his mission when he finished the gruelling sea-to-summit race up Mt Kilimanjaro in Tanzania. Williams ran more than nine marathons in nine days to get to the mountain and then rested two days before a five-day climb to the summit. His ultimate goal is to raise $100,000 for the Mental Health Foundation before he finishes the seventh summit. Williams knows his incredible journey has only just begun. "I have only completed one summit, so I am giving myself three years to complete the other six summits. It is going to be a great challenge." Williams was inspired by personal loss. "Last year ... I had two friends of mine lose their battle against depression. They were both great and talented young men who struggled with how powerful the mind can be. In mountaineering it is 90 per cent mental so I am also faced with conquering inner battles. This run is a metaphor [for] never giving up. The finish line is not always marked with tape. Focus on the true reason motivating you and one foot will continue to follow the other."
Holly McCullagh
The largest marathon in the country - the adidas Auckland Marathon and Half Marathon - is much more than just a race. Epsom's McCullagh ran for the Heart Foundation after she lost her father at the age of 59 to a sudden heart attack in 2010. "I would give anything to have him back," said the 21-year-old. "His sudden death from heart disease has shaped and will continue to shape the way I live my life." After her father died McCullagh has worked hard to get healthier. She now exercises five times a week and has lost significant weight. "At 5ft 3in (160cm) I weighed 64kg and although I was never large, I also wasn't healthy. I was lucky if I exercised more than a couple of times a week and I often ate whatever I liked. Six months following Dad's death I decided I wanted to exercise regularly and be 'healthy'. I joined a gym, cut down eating rubbish and I now weigh 55kg and on average would exercise five times a week. For me losing weight wasn't to look good but rather to improve my overall health and well-being."
Richard Davidson
Davidson's family has been hit hard by heart issues. The Herne Bay man's great-grandfather had a fatal heart attack more than 25 years ago. His father needed a valve replacement about 10 years ago due to a birth defect, and his grandfather had bypass surgery five years ago after suffering a heart attack. "Many New Zealand families have long histories of heart disease, and my family is one of these," Davidson said. "If anyone should be thankful to the Heart Foundation for their research into heart disease and ongoing initiatives to encourage Kiwis to live healthier lives, I should be." Davidson ran the Auckland Marathon to raise money for the Heart Foundation. "Their research has directly impacted my life through treatment of family members, and I wanted to get myself fitter than ever before and get my heart into top condition."
Terry Elliot
Elliot's 3-year-old son Max was diagnosed in January with hypertrophic cardiomyopathy (HCM). It's relatively rare to have this heart disease at such a young age. Max had open-heart surgery on April 2 to remove excess tissue obstructing the outflow tract on his left ventricle. The surgery was a success but HCM currently has no cure. With medication and good management Max should be able to live a long life - albeit with some restrictions. "The fact that Max was diagnosed at such a young age is a blessing as we are now aware of the situation and can minimise risk of any event," said Terry, who ran the Auckland Marathon for his son. "With all the good work and research that the Heart Foundation does, hopefully one day there will be a cure for HCM."