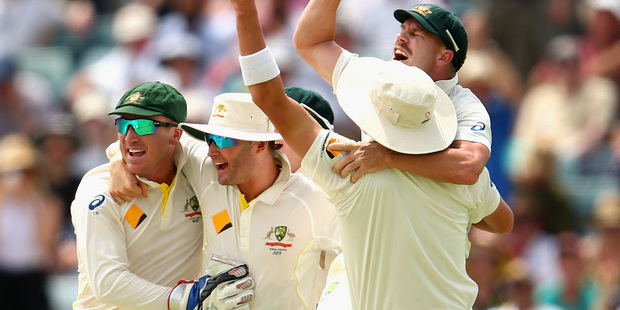 The Aussies deserve to savour the taste of champagne this summer, but such is the importance of the Ashes; it won't be long until plans for the future begin. Photo / Getty Images
After this summer's Ashes heroics, it's hard to imagine an Australian side without Michael Clarke, Brad Haddin and Mitchell Johnson.
But there's likely to be a raft of new soldiers going into battle for their respective countries when hostilities are resumed in 2015.
If Australia have learned anything from the past few years, it's that you can't stay on top in test cricket without a succession plan in place.
Just ask England.
That's not to say Australia's seven Ashes winners over the age of 30 are ready to be put out to pasture.
Form suggests this Australian side are finally in a position to win back their No 1 test ranking.
But if a week is a long time in sport, then 18 months can be an age - and Australia will want their next band of youngsters knocking down the door.
The prospect of winning in the UK for the first time since 2001 shapes as a carrot for Australia's veterans to play on for the next 18 months.
For England, mass changes are almost inevitable.
By 2015, they could do something as drastic as turning to an Australian, Sam Robson, to open the batting.
It's taken Australia four years to win back the Ashes, and it seems almost too soon that straight after the World Cup, the urn will once again go on the line.
Captain Clarke and the Australians deserve to savour the taste of champagne this summer, but such is the importance of the Ashes, it won't be long until plans for the future begin.
In his recent autobiography, Ricky Ponting expressed frustration at cricket authorities for getting too comfortable when times were good for Australia in the mid-2000s.
Ultimately, the side took years to overcome the retirements of its star players.
England are discovering this series that it's a fine line between a winning team and a stale one.
Clarke will be 34 when the time comes for Australia to retain the urn for the first time since 2002-03.
Regardless of age, Australia will want to build their team around him.
Clarke's given no indication of plans to retire, however his dodgy back means Australia can't afford to take their skipper for granted.
Who could take over from Clarke as skipper remains a mystery, although Steve Smith is growing in stature.
Vice-captain Haddin has wound back the clock this series, but he'll be 37 by the next England tour, and it's likely Australia will be on the lookout for a new keeper and a new deputy for Clarke.
Tim Paine is back for Tasmania hoping for a recall, while Matthew Wade, with two test centuries to his name, would like to think his test days aren't over.
Father time will also be chasing opener Chris Rogers, who will be 38.
James Faulkner and Moises Henriques have shown promise as test allrounders, while Tasmania's Alex Doolan has been touted as a No 3.
Bowling-wise, Australia will be confident they have the attack to dominate opposition sides for years to come, regardless of whether veterans Ryan Harris (34) and Johnson (32) and Peter Siddle (29) can battle on to 2015.
Waiting in the wings, Australia have James Pattinson, Mitchell Starc, Josh Hazlewood, Pat Cummins and Gurinder Sandhu all under the age of 23, and all talented.
- AAP