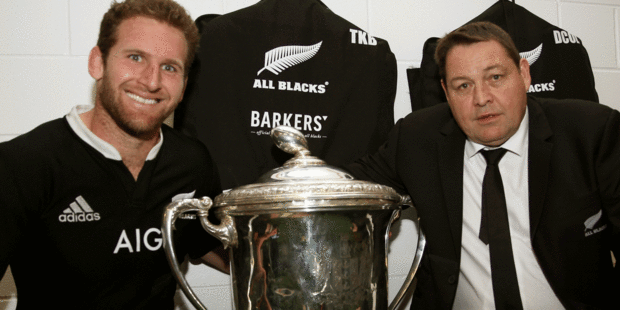 The All Blacks could be set to add more prizes to an already-glittering year after leading today's nominations for the 51st Halberg Awards.
There were 58 nominations in six categories for the nation's pre-eminent sporting awards, with the field now to be narrowed down by a panel of 30 former athletes, coaches and media representatives, before February's ceremony.
After an unbeaten season was capped by a clean sweep of the IRB end-of-year awards, the All Blacks could enjoy further success in three categories - team of the year, coach of the year (Steve Hansen) and sportsman of the year (Kieran Read).
Competition will be fierce, though, with the team field containing 13 nominations. Along with the All Blacks, there were nods for five yachting teams, including Emirates Team New Zealand, and four rowing crews, including another unbeaten team, men's pair Eric Murray and Hamish Bond.
Cycling was recognised through the men's team sprint, while the three-time Australian NBL champion Breakers and the world champion Black Sox round out the category.
Read is also facing a tough field for the sportsman prize, with IndyCar champion Scott Dixon the other frontrunner, while Hansen will have to fend off eight coaches, including three from rowing.
The sportswoman of the year award will be hotly contested by eight nominees, including three-time world championship medallist Lauren Boyle, teen golfing sensation Lydia Ko, and world champions Lisa Carrington and Valerie Adams.
The voting academy will now cast their ballots to determine the finalist, which are announced on January 1, while outstanding performances by individual athletes or teams are still considered until December 31.
The winners of the sportsman, sportswoman, disabled sportsperson and team of the year award categories will again be eligible for the country's supreme accolade for sporting excellence - the Halberg Award.
The criteria for the prize states it will be presented to the individual athlete, athlete in a team, or team whose achievement represented excellence in sport at the highest level, with last year's winners Bond and Murray a chance to repeat.
Other award categories that will be presented at the awards dinner on February 13 include New Zealand's favourite sporting moment - the finalists for which will be announced in January - the Sport New Zealand leadership award and inductees into the Sports Hall of Fame.
Nominations for the 51st Halberg Awards:
Sportsman of the Year
Aaron Gate (Cycling), Andrew Nicholson (Equestrian), Kieran Read (Rugby), Mitch Evans (Motorsport), Scott Dixon (Motorsport), Simon van Velthooven (Cycling).
Sportswoman of the Year
Emma Twigg (Rowing), Lauren Boyle (Swimming), Linda Villumsen (Cycling), Lisa Carrington (Canoeing), Lydia Ko (Golf), Melissa Timperley (Taekwon-Do), Suzie Bates (Cricket), Valerie Adams (Athletics).
Disabled Sportsperson of the Year
Cameron Leslie (Para Swimming), Carl Murphy (Para-Snowboarding), David Monk (Blind Bowling), Emma Foy and Gabrielle Vermunt (pilot) (Para Cycling), James Dunn (Blind Bowling), Mary Fisher (Para Swimming), Mike Johnson (Para Shooting), Mixed Pairs - Sue Curran and James Dunn (Blind Bowling), Nikita Howarth (Para Swimming), Sophie Pascoe (Para Swimming), Sue Curran (Blind Bowling), Team New Zealand Class B2 (Para Sailing), Team New Zealand Class B3 (Para Sailing).
Team of the Year
All Blacks (Rugby), Black Sox (Softball), Emirates Team New Zealand (Yachting), Men's Pair - Hamish Bond and Eric Murray (Rowing), Men's Lightweight Four (Rowing), Men's Team Sprint (Cycling), NZL Sailing Team with ETNZ (Yachting), NZ Men's 49er Class Team - Peter Burling and Blair Tuke (Yaching), NZ Women's 49erFX Pair - Alexandra Maloney and Molly Meech (Yachting), NZ Women's 470 Team - Jo Aleh and Polly Powrie (Yachting), New Zealand Breakers (Basketball), Women's Pair - Rebecca Scown and Kayla Pratt (Rowing), Women's Double Scull - Zoe Stevenson and Fiona Bourke (Rowing).
Emerging Talent
Ella Williams (Surfing), Gabrielle Fa'amausili (Swimming), Hannah Sarten (BMX), Jake Lewis (Motorcycling), Liam Aitcheson (Track Cycling), Makauley Fox (Baseball), Sam Gaze (Mountain Biking), Tim Robertson (Orienteering), Tom Murray (Rowing).
Coach of the Year
Dave Thompson (Rowing), Dick Tonks (Rowing), Eddie Kohlhase (Softball), Gary Hay (Rowing), Gordon Walker (Canoeing), Guy Wilson (Golf), Nathan Handley (Yachting), Simon Finnel (Cycling), Steve Hansen (Rugby).
- APNZ