Kiwis will have to try to match a mobile and efficient Kangaroos front row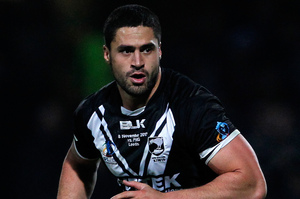 The Kiwis came into the World Cup believing they had the best forward pack in the competition.
They probably still do, but they were comprehensively outplayed by a committed England pack last weekend. Sam Burgess produced an outstanding display of power, aggression and considerable skill to confirm his place among the best forwards in the game and he was ably backed up by James Graham.
The Kiwis tried to assert their dominance in that match, trying in particular to knock Burgess off his stride, but never achieved it.
"It was a test match and he was the big dog in their side," Kiwis coach Stephen Kearney said.
"We have a couple of lads who were trying to assert their authority in a test match. In terms of effectiveness, I don't think we did it that well."
More Kiwis v Kangaroos coverage
Foran out to make final personal
Good mix of artillery bodes well for final
Kiwis aim to keep emotions in check
Aussies still the favourites
The Kiwis will come up with a different sort of challenge on Sunday morning. Where England were able to match their size, Australia have opted for a more mobile and efficient forward pack.
They selected only three recognised props in their 24-man squad but have players like Paul Gallen and Josh Papalii who are very comfortable doing the dirty work up the middle.
Gallen has made the most metres of any forward and is second overall at this tournament with 690m. Andrew Fifita (653m) and James Tamou (558m) also occupy spots in the overall top 10, although all three have played five games whereas the most any New Zealand prop has played is four.
The Kangaroos are also expertly steered around the park by hooker Cameron Smith, who is widely acknowledged as the smartest player in the game.
The Kiwis almost use a five-prop rotation with Frank-Paul Nu'uausala also used up the middle as a ball runner and the aim is then for hooker Issac Luke to take advantage out of dummy half.
New Zealand's size is more easily accommodated in international league, which has 12 interchanges and only one referee - the NRL has 10 interchanges and two referees which mean faster play-the-balls - but it's only an advantage if it's harnessed well. They have to win the ruck and play with control or they could be exposed.
Kearney has good competition among his front-rowers and might be contemplating a change with the hard-running Sam Moa putting pressure on Sam Kasiano, who was quiet against England.
New Zealand prop Jesse Bromwich said they recognised they were outplayed by the England pack last weekend.
"We definitely spoke about that," he said. "But I think the emotion got the better of us, giving penalties away when we shouldn't and going for big hits and missing. It's something we need to control and something we need to work on.
"We need to calm it down. Just handle it.
"It's going to be a big occasion and I'm not sure if the boys are going to be able to handle it but we will definitely be trying.
"It probably helps (knowing the Australian pack). I play with Cameron (Smith) every week (at Melbourne). But to know it and to stop it are two different things.
"I think all coaches know what is coming but to stop it is pretty hard. We have a big match ahead of us and Cameron will be up for it so we have to try to match them this week."
- APNZ