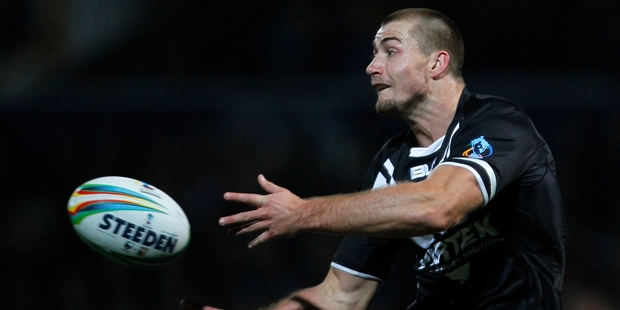 Kieran Foran knows he will have to be at his best to subdue Australian ace Johnathan Thurston. Photo / Getty Images
Kieran Foran was asked to deliver the pre-match speech for his old high school on Sydney's North Shore recently and had only one simple message.
He looked around the room and reportedly said, "boys, the most important thing out there today is to make it personal with your opposition".
The message Foran was trying to convey was, if you can play better than your opposite and all of your teammates do the same, you should win. It's something he is mindful of every time he plays and it will be no different on Sunday morning (NZT) when the Kiwis take on Australia in the World Cup final at Old Trafford in Manchester.
Foran will play immediately opposite Johnathan Thurston, who has been one of the standout players of the tournament. The Kiwis five-eighth was strangely subdued against England last weekend and knows he needs to be more prominent against the Kangaroos.
He will, in short, need to outplay Thurston.
"My role within the side is more about steering these boys around the park," Foran said. "We've got so many talented players in the team, I kind of feel I don't need to overplay my hand in this team.
"But at the same time, I'm getting too caught up controlling and organising everyone else and I'm probably forgetting to get my hands on the footy as much as I'd like. That's something I'd look to change in the final and probably handle the ball a bit more than what I did against England."
The 23-year-old is at his best when he's playing the ball at the line. Defences don't know whether to concentrate on tackling him or the support runner and he has played a large hand in Manly's success in the NRL over the last five years.
Foran, however, has never tasted victory against Australia. Injury ruled him out of the successful 2010 Four Nations campaign and the 2008 World Cup final, when New Zealand lifted the trophy for the first time, was a year before he made his international debut.
"I've always been on the end of losses to them, some bad and some close," said Foran, who captained the Kiwis in the absence of Simon Mannering in this year's Anzac test in Canberra.
"I'd never beaten England, either. That was my first time beating them [last weekend]. So to beat England and then go on to beat Australia in the final, it would mean the world."
Defeat, however, would mean missing out on the two biggest prizes on offer this season. His Manly side were beaten 26-18 in the NRL grand final by the Roosters, a defeat Foran said was "gut wrenching", and it would be difficult to lose the World Cup final also.
Foran is fiercely competitive and regarded as one of the best and toughest players in the game.
He acknowledges Australia's spine of Cameron Smith, Cooper Cronk, Thurston and Billy Slater is the best in the world but it doesn't mean he accepts Australia are a better side.
"In terms of our squad and talent, we believe," he said.
"We are the world champions and they've got to bring it to us at the end of the day.
"We feel we've brought a squad over here capable of keeping hold of the cup and there's no other thought in our head apart from the fact that we believe we can match it with them on Saturday."
It's what Foran has to think. After all, it's personal.
- APNZ