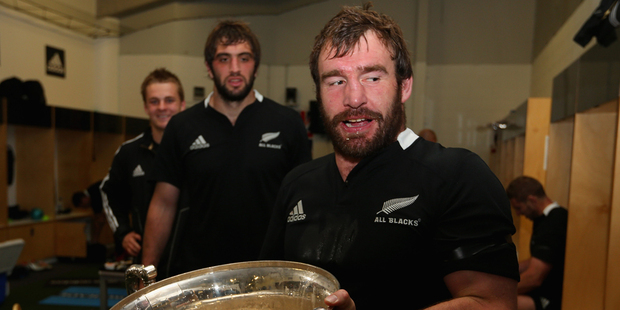 After 11 years and 82 tests in an All Blacks jersey Andrew Hore announced his international retirement this morning.
Nzherald.co.nz looks back on some of the most memorable moments from his career.
- Few players can sit back at the local over a pint and tell their mates they have captained the All Blacks but Hore is a member of that club. At the World Cup in 2011 with Dan Carter and Richie McCaw both on the sideline, Hore was given the opportunity to lead the side in pool play against Canada. The All Blacks, inspired by four tries to Zac Guildford, romped to a 79-15 win at the Cake Tin to ensure Hore can also say he was unbeaten as skipper of the All Blacks.
Read: Hore retires from international rugby
- Hore made a slow start to his international career and tasted defeat on debut for the All Blacks when they were beaten 31-28 by England at Twickenham in 2002.
The 24-year old faced stiff competition from Anton Oliver, Tom Willis, Mark Hammett, Keven Mealamu and Corey Flynn over the next few years and his international opportunities were limited. He missed selection entirely in 2003 and in 2004-07 was mainly an All Blacks' reserve. Eighteen of his first 25 tests came from the bench.
- No hooker had ever scored a hat-trick of tries during the first 10 years of Super Rugby until Hore broke that duck in 2006. Playing at Westpac Stadium in front of 27,011, Hore scored three times for the Hurricanes as they breezed past the Chiefs 35-10. That season was as good as it got for the Hurricanes as they made their only Super Rugby final but fell at the last hurdle to the Crusaders.
- Hore's best days were in 2008 when he was named Super Rugby player of the year and New Zealand's player of the year at the end-of-season awards. Hore was in dynamic form for the Hurricanes as he bagged five tries - good for seventh-equal across all players in Super Rugby - in 11 games, while he also started 11 tests for the All Blacks.
- Of course, there was an element of infamy to Hore's career. Bradley Davies certainly won't be lining up to pay tribute as Hore walks away from the game. In the second minute of the All Blacks' 2012 end-of-year international in Wales, Hore assaulted Davies with a swinging arm and caused the lock to "lose four days of my life" through concussion. Hore was ostensibly cleaning out an early ruck but Davies was still arriving and on his feet when Hore hit him from behind. Hore was suspended five matches and, after showing a predilection for shooting seals earlier in his career, he will unfortunately always be remembered for clubbing Wales.
-nzherald.co.nz