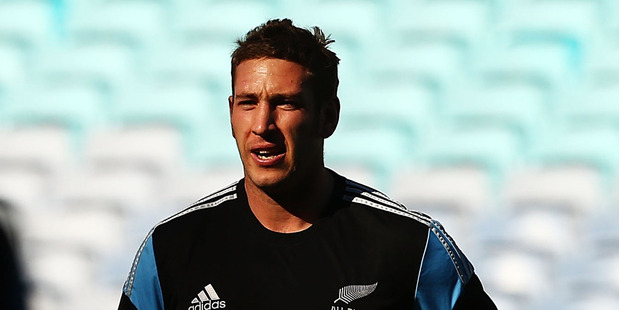 Sitting in the Twickenham changing room before the All Blacks test against England last weekend, a whole range of thoughts were going through Luke Romano's head and not all of them were good ones.
Having injured his groin in the first Rugby Championship test of the year against Australia in Sydney in August, Romano hadn't played for 15 weeks. Recovering from the injury - the same one which struck Dan Carter down during the 2011 World Cup - was a long process.
Carter needed surgery because of his kicking duties, whereas Romano's was left to heal naturally, but he couldn't do any training for the first six weeks and now that he was at rugby's HQ about to take his place on the reserves bench against one of the most physical sides in the world, there was a creeping doubt that he might not be able to go the distance.
"I was probably as nervous as I've ever been before a game,'' Romano said in Dublin as he prepared to play Ireland at the Aviva Stadium on Monday morning - his side's final test of the year.
``There was a whole combination of factors - I hadn't played in 15 weeks and you've got that little doubt whether the groin was going to hold up to it.
Once I got out there and involved it was like putting a glove back on. It felt comfortable.
"It was a bit of a mental barrier to get over... but once I got out there the adrenaline took over.
"Obviously if I get an opportunity this week I'll be a lot better for having played last week.''
Once he took the pitch for the final 15 minutes of the 30-22 victory at Twickenham as Brodie Retallick's replacement, Romano showed he hadn't lost any of his keenness to run with the ball. It is one of his strengths and, as he is a chance to start against Ireland, the All Blacks will be using his size and speed to get them over the gain-line in the midfield area.
It isn't all free-flowing artistry among the backs though, as he revealed too the demands the new scrum engagement laws are putting on locks, especially those returning from injury and about to pack down against England. Curiously, there was only one scrum while he was on the field.
"Scrumming under the new rules, there is a lot more pressure on the locks and obviously the front row too. Under the old rules the scrum used to last from maybe three to four seconds whereas we're looking at seven, eight, nine seconds now.''
The return of the 27-year-old, who made his debut against Ireland in Hamilton last year, is important for the All Blacks as he provides a point of difference to Retallick's tighter style. He will also help ease the burden on the 22-year-old Retallick, who has played a lot of rugby this year for the Chiefs and All Blacks. Playing alongside senior lock Sam Whitelock, Retallick has played 10 of his team's 13 tests in 2013. Romano has played only five.
#
Top All Blacks locks
Luke Romano
Age: 27
Tests: 16 (5 in 2013)
#
Brodie Retallick
Age: 22
Tests: 23 (10 in 2013)
#
Sam Whitelock
Age: 25
Tests: 50 (11 in 2013)
- APNZ