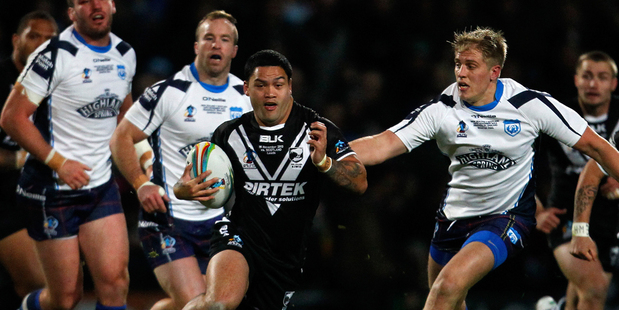 The last time cousins Issac Luke and Rangi Chase played against each other, it ended badly for the Kiwis and Luke in particular and it was lucky Chase wasn't invalided out of the game for an extended period.
Luke admitted after New Zealand's 28-6 defeat to England in Hull in 2011 he tried to break Chase's leg with a leg twist. The Kiwis hooker felt aggrieved his cousin had switched allegiance to England from New Zealand and it pushed him over the edge.
"I just saw red," Luke admitted at the time.
It's something that has followed the 26-year-old since and it will form some of the backdrop among a variety of good sub-plots ahead of next Sunday's (NZT) World Cup semifinal between New Zealand and England at Wembley.
"I have moved on from that, grown up," Luke said after the Kiwis' impressive 40-4 win over Scotland on Saturday morning. "As you can see, it's really been reflected in how I have been going."
Luke has been arguably the player of the tournament so far and his value to the Kiwis side cannot be overstated. Seeing Sonny Bill Williams lying prone on the ground early against Scotland might have been distressing for some New Zealand fans but it would have been even worse if it had been Luke.
The Kiwis base so much of their game around forward power but also Luke's darts out of dummy-half. Australia's Cameron Smith might be the best controlling hooker in the game but no one is as good as Luke out of dummy half.
He has run for 509m so far in the tournament, second only to impressive young Kiwis winger Roger Tuivasa-Sheck, and averages around 2m more every run than any other hooker at the tournament as he takes advantage of tired and lazy runners.
It's his growing maturity both on and off the field which is starting to show through - he's part of the emerging leader's group and leads the Kiwis haka - when earlier there had been rough edges.
In that same 2011 Four Nations tournament Luke was also widely slated for a cannonball tackle and last year was dropped by Rabbitohs coach Michael Macguire for a couple of off-field indiscretions and earlier this year said he looks back on that time as "a good thing" because it forced him to clean up his act.
Luke hasn't caught up with Chase yet at the World Cup. That might need to wait until Sunday morning.
It's an occasion Luke hopes will be a much happier outcome all round.
- APNZ