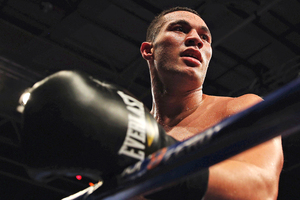 Fast emerging New Zealand heavyweight Joseph Parker should experience no lasting difficulties after the bad eye cut sustained in his fight with Afa Tatupu last month.
His trainer Kevin Barry said from Las Vegas that the cut - suffered after a head clash - had healed well.
"I took Joseph to my plastic surgeon and he told us that the eye looks fantastic. The cut is well above the orbital bone and he doubts that a fighter would be able to open it with a punch - though another head clash might be another story," said Barry.
The cut occurred when Parker, a quick-hands boxer with a promising future, ditched his game plan and traded blows with Tatupu. The plan had been for the elegant Parker to stay on the outside, picking off the puncher with speed, movement and ringcraft. However, Parker forgot the plot in the heat of the moment and was caught when Tatupu led with his head during an exchange.
A grumpy Barry made his feelings clear at the time - cuts can affect a fighter's career, especially when opponents work on it during a bout, letting blood flow and getting the fight stopped.
Kiwi heavyweight Shane Cameron suffered from cuts for a time and there have been many boxers whose careers have been damaged by cuts. They include British heavyweight Henry Cooper, famed for being one of the few who knocked down the great Muhammad Ali but who was beaten in both their bouts by Ali opening up a Cooper cut.
"Joseph has taken ownership of that now and he is training the hardest he has ever trained. This has been really fulfilling - it's the hardest we have worked in preparing for an opponent," said Barry.
"Okay, the cut was a bump in the road and we are not sparring at the moment but we are doing a lot of skills work. He is just lapping it up. We are working on a wide variety of boxing skills and techniques and he is already showing huge improvement. We are only into the third week and I can tell that, when he comes home to New Zealand in December, he will be in much better shape than when he fought Tatupu."
Parker is due to fight Brazilian heavyweight George Arias (53 fights, 42 wins, 39 knockouts and 11 losses) in March, the fight delayed after his cut. Arias, 39, is a step up; he has won his last 12 fights, most in defence of his South American heavyweight titles and has faced heavyweights such as Fres Oquendo, Audley Harrison and Taras Bidenko.