When Alexander Ustinov ended his fight - his only loss - to tough Bulgarian Kubrat Pulev last year, he did so by sinking to one knee and taking the count.
He hadn't taken a single telling blow. The YouTube footage shows him waiting for the referee to do his work. It looked like a surrender, a signal that if a fit and committed David Tua were to attack with those renowned heavy shots of his in Hamilton tomorrow night, the giant Belarusian's nerve could come under question.
But now it has been revealed that a punch from the unbeaten and highly regarded Pulev damaged Ustinov's eardrum and, disoriented and in pain, he sank to one knee to end the fight.
Duco Events boss David Higgins says Ustinov's handlers confirmed the eardrum problem and, if true, it means Tua has an even tougher job to get past the 2.03m, 132kg heavyweight.
The New Zealand TAB has Tua as favourite, but that is clearly based on the betting actions of the biased and maybe hopeful local market.
Ustinov is the kind of fighter with whom Tua has had problems. Only 1.78m, Tua has had difficulty with tall boxers with efficient jabs, who can score and move, circling away from his damaging left hook and tying him up when he moves in close.
In sparring, Ustinov looked faster and fitter than previously supposed. He can move, though he is still no dancer and that long jab will be employed to rack up points. Ustinov is world-ranked in three of boxing's world bodies; Tua isn't.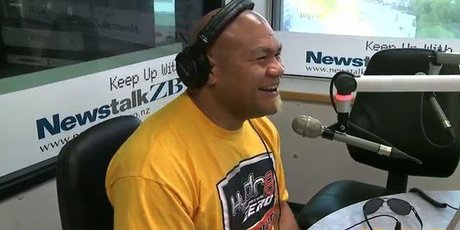 Tua hasn't knocked anyone out for four years, he has been out of the ring for two years, he suffered his first knockdown in his reverses against Monte Barrett, and there must be question marks over whether he is at 40 the fighter he once was.
Ustinov should be favourite, not only at the TAB, but in any objective assessment.
Against that, however, are three main elements. Tua is as fit and ripped as he has been for many, many years - maybe even more so than he was for the Shane Cameron showdown. He knows this is really his last chance to put himself in position for a title shot; there is a steely glint in his eyes not seen for some time. And the calf injury that delayed the fight has given him extra time for conditioning.
What remains to be seen is if his punching power, rhythm and timing can come quickly back after so long out of the ring. If it does, there is a good chance this bout could finish early. There is a suspicion that the longer it goes on, the more it will benefit Ustinov unless Tua can find the lights-out switch at the Claudelands Arena.
Tua's former manager and trainer, Kevin Barry, believes Tua has a real chance against Ustinov.
"Ustinov keeps his hands very low, he is slow and not a great puncher," Barry said. "You only have to look at his last fight [against Croatia journeyman Ivica Perkovic] when he went the full eight-round distance against a guy who has been knocked out a few times and isn't a huge fighter.
"In October 2011, Ustinov took on Denis Bakhtov [a Ukrainian fighter with no big names on his fight card] who is 5ft 11in, only an inch or two taller than David. Bakhtov has been beaten six times and knocked out three times - but Ustinov only got a 12-round decision. That tells me Ustinov may have trouble with shorter opponents."
Barry added: "Ustinov lunges with his jab; it's not fast ... and that gives David Tua a huge opportunity to slip inside and get him with that trademark left hook."