Hansen says 'revenge' is a dirty word as he eyes an England side full of confidence.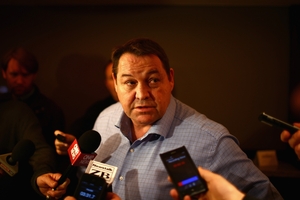 The expectation and hype may be bigger this week, but the All Blacks have arrived in London with the same intention as always - to play better than they did in Paris and deliver a performance they can be proud of.
It's that simple. It's always that simple. It's this uncluttered focus that has enabled the All Blacks to win 31 of their last 33 tests - a record that may indeed, as French coach Philippe St Andre suggested, be the most impressive in history.
It's the refusal to see outcome instead of performance that makes the All Blacks so hard to beat. The only difference this week is that memories of what happened on their last visit will form part of their motivation.
It will be dual-pronged, it will be about wanting to create better memories of the Twickenham experience but also remembering that if they are not "bone-deep" in their preparation, England will make them pay.
"It still hurts. We don't like losing and that was a tough old day," said coach Steve Hansen on arrival in the English capital.
"It is something we have had to hang on to for quite some time.
"But revenge is not a word you should use in rugby. Because it is about having an opportunity to go out and see if you can beat them. They are going along pretty good. They have clearly got a lot of confidence and they believe in themselves."
Hansen's reference to English confidence is a subtle dig at coach Stuart Lancaster's claim that his side can finish November at No2 in the IRB world rankings. To do that, they have to beat the All Blacks and score four tries in the process.
There has also been pointed reference by Hansen to the physical state of the All Blacks ahead of last year's match. The All Blacks, en masse, were hit by a virus on the Wednesday before the game - one that saw some of the starting team not eat for 48 hours.
It wasn't proffered as an excuse 12 months ago and nor is it now. Hansen is warning England that his side have more desire and mental energy than they had before the 21-38 loss.
"They [England] had way more excitement, desire and passion," says Hansen. "That's the energy I am talking about. On the day they played a game we just couldn't compete with. That is our challenge [this time] to see if we are good enough.
"From a physical point of view I think we are in great shape. Mentally I think we are in great shape. There is a massive desire within the group to strive to keep improving themselves. We had 12 out of the 15 [against France] having their first game in about three weeks. We knew that we wouldn't be as sharp as we probably could be ...
"Some of that has to go down to the pressure France put on us but some of it was a bit of rustiness from not playing every Saturday. But we have had a game and I am expecting an improvement."