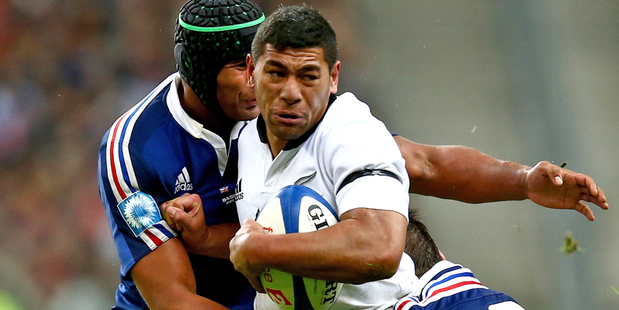 In his first season of test football, Charles Piutau has made a huge impression. He is a natural footballer, with every skill he could possibly need. His performance in Paris, where he was the critical difference, has all but won him a starting berth on the wing against England.
"Pretty tough there is a lot of depth there and one guy has probably picked himself," was what All Black coach Steve Hansen said when he was asked whether it would be hard to pick the wings for the England test. "The other people are competing to get the other spot I would say."
The attraction of Piutau is that he is a player with sharp natural instincts - as evidenced with his outrageously good flick pass to Kieran Read in Paris.
Gregor Paul looks at give other players who have been renowned for their instincts.
Five Most Instinctive All Blacks of the professional age
1: Carlos Spencer
It was always a bit infuriating that coaches with half of Carlos Spencer's ability would try to coach him. What kind of logic was that: filling his head with ideas that were the same as everyone else's rather than letting his original genius run free?
Spencer saw the field in different dimensions to everyone else and he would invariably do things that were genuinely amazing. The man invented the pass to himself, saw holes that seriously were never there and tormented defences with his out of the box thinking.
2: Christian Cullen
Here's the thing, the All Blacks didn't spend overly long wondering how to use Cullen when he was in his prime. They threw him the ball and then did their best to run support lines. That was hard, because even Cullen had no idea where he would head. He ran as he saw it, not how he think the coaches wanted him to play. An idea popped into his head and he would trust it. And with good reason - he was usually right.
3: Richie McCaw
McCaw is a natural rugby player like no other. He reads the contact zones better than anyone in the world game. He reads running lines better than anyone in the game as well. He pops up in the right place almost every time and then there is his art of knowing when to go for the ball and when to leave it. He follows his instincts and the results speak for themselves - he ends up in the thick of the action.
He is the most natural No 7 the world has known.
4: Israel Dagg
There's something about Dagg - always has been apparently according to this who watched him at school. He's able to make things happen and his secret is not over thinking. Remember the World Cup semi-final in 2011 - it was Dagg, coming into the line at that crazy angle before slinging the pass back to Ma'a Nonu that pretty much won the game for the All Blacks. As Steve Hansen then said before the final: "He's a young man who has no fear about doing what's right in the moment but has a canny knack; his instincts for rugby are brilliant and if he trusts those then he's always going to be a great player."
5: Sitiveni Sivivatu
In the modern game, where defences are hyper analysed, Sivivatu was freakishly good at finding ways through them. What helped was that he backed himself to try the unusual - he'd see it and do it, while so many others see it and then think about and then lose the window. Not Sivivatu - he'd find angles that were acute and almost impossible to defend and he ran where the mood took him.