France operate at their best on raw emotion. They are at their best when they are seemingly hopeless cases. Then, the natural order of things tends to go out the window.
Remember their World Cup boilovers against the All Blacks in 1999 and 2007? The same almost applied in 2011 but for a missed penalty.
For them, the test against the All Blacks at Stade de France on Sunday (NZT) - the eve of Armistice Day - is a fantastic opportunity to turn the world on its head once again.
Whitewashed in the test series in New Zealand in June, the French hardly fired a shot. And yet ...
The All Blacks, by contrast, tend to perform with ruthless efficiency, by paying attention to detail. France are another box to be ticked on their quest to finish the year unbeaten, something which would be a magnificent achievement, but coach Steve Hansen was quick to point out there is an emotional aspect to this test for his men, too.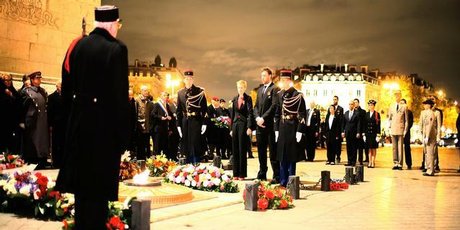 As Tom Taylor and Wyatt Crockett prepared to represent the All Blacks in a ceremony at the Tomb of the Unknown Soldier at Paris' Arc de Triomphe, Hansen spoke of his team's desire to retain the Dave Gallaher Cup, named for the captain of the 1905-06 Originals side who was one of 13 All Blacks killed in World War I. The significance of that hasn't been lost on Hansen or his team and by naming the most experienced line-up in All Black history - there are 853 caps in the starting XV alone - Hansen believes this gives them the best chance of maintaining their 40-year unbeaten record in Paris.
There will be question marks around the fitness of the returning Owen Franks and Cory Jane and how Charles Piutau will handle the pressure of his third start in nine tests. But for Hansen, that overall experience brings a solid foundation and the capacity to adapt.
"It brings ... understanding of what you've got to do in a big occasion," Hansen said of his seasoned troops. "We certainly won't be taking the French lightly. For them, it's a big occasion as well. It's their first home test of the [season]. It's being played in a magnificent stadium and the significance of the match ... is huge for us."
The spotlight will again fall on the All Black scrum, still a work in progress this year. It's not an Achilles heel, but France will see an opportunity, as will England next weekend.
Tony Woodcock, Keven Mealamu and Franks will be the starting front row in the spotlight this week, with the latter back from a groin injury.
Mealamu has been handed the starting hooker's role, with Dane Coles his back-up. Hansen hinted Andrew Hore would be involved against England at the expense of Mealamu, which suggests Coles will again start from the bench.
Named on the left wing, Piutau would have started there even had Julian Savea not been struck down with the flu, a just reward for his performance against Japan and against Australia in Dunedin.
"He came out and showed real maturity against Australia," said Hansen. "He defended magnificently and with the ball in hand he's electric. He's got the ability to beat people and he showed that again against Japan.
"Aerially he's strong. He's in good form - he's had two [starting] opportunities and he deserves another one."