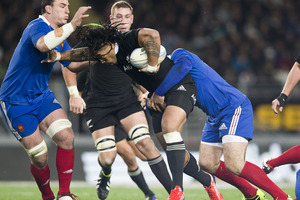 Gregor Paul on the truth about the French and All Blacks rivalry.
French flair is alive and well:
Answer - Fiction
This is absolute myth. The days of Serge Blanco, Philippe Sella and Denis Charvet are long gone. France are stoic and dull - more boring than England. As All Black assistant coach Ian Foster said this week: "What we are seeing now is a very disciplined French team. Three tests in June - set-piece, defence, breakdown, the core parts of their game, we saw a lot of discipline and they were a hard side to break down."
The stats make ugly reading. France have played 208 tests in the professional age and scored 584 tries - which accounts for just over half of their total of 5604 points. New Zealand in the same period, have played 214 tests and scored 924 tries for a total of 7810 points.
The French have a mental hold over the All Blacks:
Answer - Fiction
This is another myth. France have played the All Blacks 54 times and won just 11 times.
The picture has been distorted by the nature and importance of some of the victories - two have come in the knockout rounds of World Cups, while one in Nantes is infamous for its violence and intensity.
If anything, the All Blacks find another level when they play France. They have posted some huge scores - some of their biggest against tier one opposition - against France.
Too many foreigners are killing the French game:
Answer - Fact
This isn't measurable, but is considered fact on the basis that there are often weekends in the Top 14 when there won't be a single French-qualified first-five in a starting XV.
There have been weekends when there hasn't even been a French qualified prop in action.
It paints a certain picture when two of the three men recently nominated as the Top 14 player of the year were 'foreigners': South African Rory Kockott beat Sitiveni Sivivatu to the award, ahead of France's Wesley Fofana.
The French are a dirty team:
Answer - Fiction
In the past - yes, no question. They were notorious for it. In the professional age... they have tidied things up. There is the odd lapse - such as Aurelien Rougerie's eye-gouge in the World Cup final. But in last year's Six Nations, France picked up zero yellow cards to be the most disciplined in the tournament. It's more of a myth than fact.
The French base their game on scrummaging:
Answer - Fact
The set-piece remains the foundation of rugby in France. It's where everything starts and in some cases ends. Carl Hayman, a man the All Blacks begged to come home in 2010, could barely make the bench in his first year at Toulon. A few flashy first-fives top the list of the highest earners in France but Hayman is right up there and a decent prop can expect to be exceptionally well paid in France because their work is admired and valued.