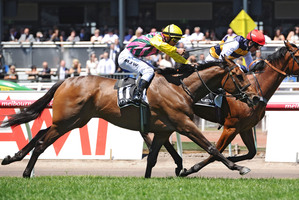 English trainer Ed Walker may be a novice in Australia, but he hasn't walked around with his eyes closed.
As he showed when Ruscello scored a surprise victory in Saturday's A$300,000 Lexus, sneaking into the Melbourne Cup as No24.
At yesterday's international press conference, Walker displayed even greater nous.
The English don't back up their horses in three days, particularly after a race as tough as Ruscello had.
"I thought I'd call Mr [Bart] Cummings and ask him the secret of backing a horse up into a Melbourne Cup, but after pushing him out of the race [with Precedence] I thought I'd better not."
There were originally no intentions of running Ruscello in the Melbourne Cup, which would have resulted in Precedence getting into the Cup in the 24th spot.
However, Walker's camp, which includes OTI Racing, made the last-minute call on Saturday night after former Australian test cricketer Simon O'Donnell, a major part of OTI Racing, took Walker to the bar for a stern talking to. Paraphrasing, O'Donnell said we know you Europeans don't run your horses on a Saturday then think, "Gee, what about running 3200m on Tuesday?" but this is important.
"I don't think he realised the significance of qualifying a horse into the Melbourne Cup late like he did."