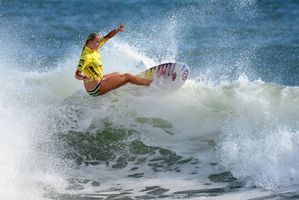 Kiwi surfer Ella Williams has won the 2013 Women's ASP World Junior Title after defeating Hawaii's Kauai's Tatiana Weston-Webb in the final at Joaquina Beach in Florianopolis, Brazil.
Williams' victory places her name among some of surfing's finest female talent, with past winners including the likes of ASP Women's World Championship Tour (WCT) standouts Sally Fitzgibbons (AUS), 22, Pauline Ado (FRA), 22, and Laura Enever (AUS), 22.
In addition to the prestigious title, the 18-year old has earned a seed in to the Round of 60 for all ASP Women's 6-Star events for 2014, potentially fast-tracking her chances towards qualification for the elite ASP Top 17.
Williams, who entered the event as a last-minute alternate, quietly navigated her way to the Final, besting recent ASP Women's WCT Qualifier Johanne Defay, before topping Weston-Webb for the win. The Kiwi battled hard in the Final and would lock in to two lefthanders in the back half of the match-up to secure the victory.
"This is like a dream," Williams said. "I've worked really hard to get here and for it to pay off was amazing. I was pretty lucky to get in to the competition and anything was just a bonus for me. This is really just amazing. Getting in to the top round of the QS events is such a fantastic help for myself and I hope to do well and progress next year."
Weston-Webb, who was born in Brazil but moved to Hawaii as a child, was deadly on both the Joaquina lefts and rights throughout the entirety of Women's HD World Junior Championships competition, consistently posting top scores throughout the rounds.
The Hawaiian was unable to find a rhythm in the Final bout against Williams, and would finish runner up.
"I'm really happy for Ella (Williams)," Weston-Webb said. "I love to watch my friends win and having my family here for this competition is amazing and I'm sad to let them down. Their endless love and support is what my keeps my head held high, so I'm really happy to have them here and supporting me. This is a good result, I'm looking forward to next year and hopefully I can qualify (for the Women's WCT).