Ben Smith, so the saying goes, is still a work in progress as he tries his skilful hand at centre - but maybe the best centre prospect was running around on the wing as the All Blacks rolled over Japan last night.
Charles Piutau was the pick of the backs last night with a strong first half performance, capped by a try in the last minutes of the second half to make it two for the night. Such is his bustling, power running it is difficult not to wonder how Piutau - normally a fullback - might fare in the 13 jersey in the absence of Conrad Smith.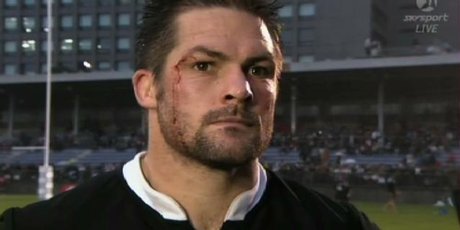 To be fair to Ben Smith, his performance last night will have kept the All Black selectors interested in extending his trial in the midfield. His best work was to set Piutau on the charge after the Japanese made a hash of a Dan Carter kick. Smith showed a centre's vision by feeding Piutau and then making himself available for the scoring pass.
It must be said, too, that fullbacks being turned into centres is not an All Black chapter full of joyous entries. Christian Cullen, Leon Macdonald are famous examples of 15 into 13 doesn't go and even Mils Muliaina didn't always convince; neither did Isaia Toeava and Rene Ranger didn't really get long enough at 13 to judge if he would make the grade.
Wingers coming in a spot have a rather better record (eg. Tana Umaga, Bill Davis) but Piutau looks as if he might have the ability to break the mould. He is strong - strong enough to routinely get past the first tackler or to have his hands free for the offload or the pass. He is a good defender and has a physical presence; he successfully looks for work and enjoys the thrust and parry at this level.
There might be work to do with the subtleties of the centre game. The vision to find a man with a pass can make all the difference and we don't yet know whether Piutau has that. The defensive side of the job is also complex, as Ben Smith is finding; Conrad Smith makes it look so easy with his gliding, instinctive covering, support and accuracy and ability to tidy up.
But Piutau probably made the biggest impact of all the debutants and tyros on display in this so-called "development" test. There would be few definitive judgements able to be made on the back of this match - although Dane Coles and Steven Luatua advanced their cases a little and Tawera Kerr-Barlow did well enough in an important game for him.
Japan is one thing, however, and he will need to show he has that much time and space playing against more major rugby nations to hold off what could yet be a searching challenge from TJ Perenara.
Francis Saili did not have a happy time at second five-eighths and Beauden Barrett demonstrated beautifully that Cory Jane might be a better bet - a much better bet - if the All Blacks are looking for a back-up fullback who is not Ben Smith.