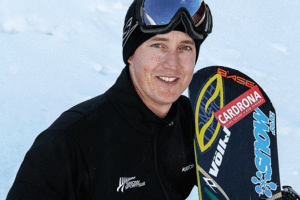 When Ashley Light, chef de mission of New Zealand's Paralympic Winter Games, this week identified two gold medals as the target for Sochi in March - from a team of three - it sounded pretty ambitious.
But when you consider two of the three are defending Paralympic standing slalom skier Adam Hall and the equal world No 1 snowboarder cross racer Carl Murphy - the other is seated skier Corey Peters - it becomes significantly more realistic.
Certainly Murphy isn't going to Sochi for his health. His eyes are on the top of the podium at his first Winter Paralympics.
And on the back of his best year - and winning the New Zealand Snow Sports athlete of the year crown - the 34-year-old architectural designer seems to be timing his run nicely.
"My goal is the gold medal. That's all I focus on," Murphy said.
"Obviously if things don't go that way they don't. But there's no point in thinking about seconds or thirds because then you'll come second or third."
Unlike many Paralympic sports achievers, Murphy didn't have to face readjusting to life after illness or injury. The New Plymouth-born, Wanaka-based snowboarder is a below the knee amputee since shortly after being born, but rides in the standard setup with a carbon fibre prosthetic leg.
"I tell a few porkies every now and then, that it was shark attack or motorcycle accident," he quipped.
Murphy can relate to champion swimmer Sophie Pascoe's line that losing a lower leg at the age of two was the best thing that happened to her.
"For sure. Having it from birth I guess it's hard to say what track my life would have gone down if I'd been born normal.
"In some ways I'd never be where I am now without having a prosthetic.
"Growing up with it you just had to keep up with everyone at school, do what everyone else was doing and you don't know any different so your body has already adapted to it.
"There's no point sitting down dwelling on it. If you're disabled you're disabled, and you can make the choice to do nothing with it or make best of the opportunities you've still got."
Murphy works about 20 hours a week, "just when I can fit them in" with supportive employers. As a semi-professional he admits frankly he needs the extra money with a young family, wife Aleisha and two year old Oliver.
He has been snowboarding for 16 years, but competitively for just the last six.
Murphy has had a year of notable achievement, peaking with victory at the Canadian World Cup at Big White in British Columbia in March.
There were two gold medals in the Netherlands at indoor World Cup events, and seconds at another World Cup in Canada, at the Paralympic test event in Sochi last March, and at last year's world champs in France.
He thought he would be in with a chance of the adaptive athlete of the year, but not picking up the big one.
"I was shocked by it. I'd had my best season ever but never really contemplated picking up that award, but it was great to be recognised for last season."
Once he arrives in Sochi next year, Murphy believes about 10 competitors will be in the medals frame.
His toughest rival is expected to be American Evan Strong - "my nemesis for the last three years" - with whom he shares top world ranking.
When Murphy beat Strong in Canada in his targeted, or pinnacle event for the year in Canada "everything really fell together that day". And you sense a small mental hurdle may have been overcome, too.
When Paralympic snowboarding was included on the Olympic programme, funding increased. So now Wanaka-based Murphy and coach Adam Dooney can focus their attention purely on the racing, with support staff now on board to cover physiotherapy, sports psychology, nutrition and personal training.
Murphy is benefitting from the increased support. The ultimate proof of that assistance will come in Sochi in March.
Before that he has World Cup races at Copper Mountain in Colorado and Big White in January, and the world championships in La Molina, Spain in February as the final leadup to the Paralympics.
The value of the test event was diminished once it was decided to shift the course for March. At least Murphy had a chance to look at the location.
"It was a bit of a pain because it means going to a bit of an unknown. But I'm not too worried about the course. It's not a major."
Murphy arrived in Vancouver in 2010 on the day Hall won his gold medal three years ago. Hall was feted upon his return. The memory has stuck and now it's Murphy's chance and he's determined not to waste it.