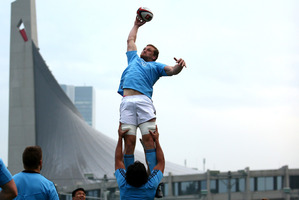 Even in Tokyo, with its impenetrable mass of skyscrapers, Dominic Bird still appears to be a significant structure.
At 2.06m he'll become the tallest All Black in history when he makes his debut tomorrow. The man is huge - impressively tall - but there's plenty more to him than height.
He doesn't owe his selection exclusively to his physique. There have been plenty of tall men over the years who have been promoted as potential superstars only to fade as quickly as they arrived.
Size alone isn't enough to survive at this level. England had the 2.08m Martin Bayfield whose best work wasn't in the test arena but as the stand-in for the character Hagrid in the Harry Potter films. Andries Bekker at 2.08m is another giant who never cut it at test level - the Boks never convinced he had all he needed.
Wales used to pick a 2.08m bloke called Derwyn Jones. He won 19 caps but was universally recognised as soft - a giant lump who added little.
The tallest of all has been Scotland's Richard Metcalfe. At 2.13m he was simply enormous. He played against the All Blacks in 2000 but the fact no one remembers says it all.
Bird is a little different, or at least the All Black selectors think he is.
As head coach Steve Hansen has proven during his tenure, his selection template is dominated by skill-sets. Each position has a list of demands and if they aren't met, the player doesn't get picked.
The 22-year-old Bird has ticked the relevant boxes. "The obvious one is that he's tall, but he's an athlete, he's co-ordinated," says Hansen. "He's got physical attributes we like in the core role. He doesn't mind hitting rucks. He's still learning the game, but there is a lot scope there to work with.
"We would have picked him in June so while it seems like we have rushed him into the team, he's had a wee while to wait. He had a bit of adversity in June [ripping a muscle the night before the squad was revealed] and he coped with that really well, which is pleasing.
"We are confident he'll do a job for us and put some pressure on the other guys who are performing really well at the moment."
The other part of the selection template that matters to Hansen is depth of character and maturity.
In this regard, Bird scores highly. After finishing school in Hawkes Bay, Bird headed to London for a year, to live life, travel and not play rugby. He returned to New Zealand to take up a place at Lincoln University to study environmental management.
It's obvious there is more in his life than just rugby and that he's mentally equipped to succeed. Potentially, his injury on the eve of being named in the squad back in June could have sent him into an emotional tailspin, but the fact he was able to return ahead of schedule alludes to his ability to absorb major setbacks.
"It was definitely gutting," he says. "But a lot of people told me it was only one setback and that I had a long career ahead. They told me to get to work and get it right, get back on the pitch as soon as I could.
"With only two games under my belt [since returning from injury] it is an honour to come in and get into it straight away. But the boys around me keep reminding me I have a big job to do and to keep humble. It is pretty exciting."
Hansen is just as excited - as once Bird finds his feet at this level, the All Blacks are going to have an extraordinary array of talent at lock. Big men have been hard to find in the past and now the All Blacks have the 2.02m Sam Whitelock, the 2.04m Brodie Retallick and Bird, they have the firepower to continue their transformation into becoming the world's best lineout side.
This year they have improved out of sight their ability to attack opposition ball. They're also better at winning their own and are now an intimidating presence on the touchline.
"I think we are already seeing how we are operating at lineout time," says Hansen. "It is going particularly well.
"Throw Steven Luatua in there as well and he adds more height again, Kieran Read as well and there are four guys on the track at any one time who are massive men. Sam Cane, Richie [McCaw] and Liam [Messam] are all jumping options too if they are out there. We have led the stats in turnover lineouts from opposition in the Sanzar competition," Hansen said.
"[It's] an indication that the extra height is helping us."