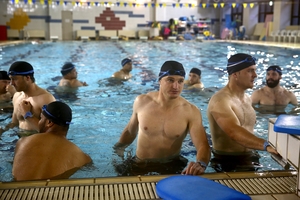 A Beauden Barrett All Blacks' high-lights package this season would be high on quality, despite his role as a substitute. His challenge tomorrow is to replicate that impact from the first whistle and as a fullback, rather than a first-five.
Barrett has played 14 tests after making his debut last year and he has started only one - as a fullback against Italy in Rome last year. A week earlier he played at fullback as a replacement against Scotland at Murrayfield.
All of his other appearances have been at first-five apart from a stint at wing when replacing Rene Ranger against France in Christchurch - he promptly finished off the All Blacks' own "try from the end of the world" - and at second-five a week later against the Tricolours in New Plymouth when he again scored a late try. Coming as it did on his home turf, it was the most popular of the night.
Barrett has always been considered as fullback potential by coach Steven Hansen.
He has pace, excellent game awareness, and a long clearing kick. His defence has also improved over the past six months.
The change is unlikely to faze him, despite the fact that he was apparently unimpressed by Hurricanes coach Mark Hammett's decision to play him at the back this season, a brief and unsuccessful move which was quickly reversed.
Despite Barrett's eye-catching form at No10 for the All Blacks, Aaron Cruden remains Dan Carter's back-up.
However, Barrett came of age when replacing Carter early in the bloody test against the Boks at Eden Park and he reached similar heights in the return encounter in Johannesburg. This start is a just reward for his efforts.
Not surprisingly, Barrett is beginning to make waves internationally. Former Wallabies wing David Campese, a man who possesses a mouth as quick as his feet used to be, is a fan.
He told England's Daily Telegraph that 22-year-old Barrett is typical of the talent coming through the New Zealand game. "I thought that the Blacks would struggle this year because of the older player problem, like Ma'a Nonu, Richie McCaw, but they have all stood up and are bloody good again," he said. "They have so many good players they can slot in. If McCaw gets injured, they have got Sam Cane, you've not lost anything. Same with Dan Carter. See how Beauden Barrett came through. They have got that confidence, they have got that structure."
Meanwhile, the same article quotes former All Black great Zinzan Brooke on how Hansen's men are likely to be feeling when they take the field at Twickenham in a couple of weeks, one year on from their record loss to England.
"I can tell you what it was like in 1993 when we lost 15-9 at Twickenham," he said. "That was a knife between the shoulder blades. The post-match function that night. Mate, we hated that function. The wound was deep. For the next 18 months we were burning inside. We just could not wait until the next time we played England. When it came, the 1995 World Cup semifinal in Cape Town, there was not a word said in the changing rooms beforehand, not a word. We just put the England jersey up there. The scoreline. 15-9. It all came flooding back. That was the motivation."
- APNZ