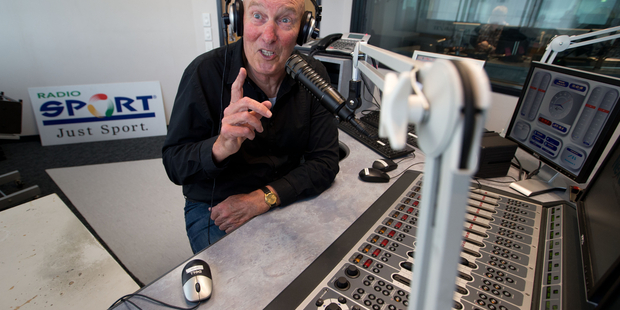 Sportscaster Murray Deaker, an undisputed giant of New Zealand broadcasting, has blown the final whistle on his career of over 20 years.
The 68-year-old Aucklander informed viewers of last night's Deaker on Sport show on Sky it was his last. He will host his final Newstalk ZB/Radio Sport show on December 22 after a break following hip replacement surgery tomorrow. Hours before the surprise television announcement, Deaker informed his TV show sponsors at a gathering where he choked up when the spotlight fell on his long time producer Greg Billings.
Deaker told the Herald: "I wanted to go out on top of my game...I was sports broadcaster of the year last year and in the final three this year so I can say that. "
"I've been ruthless on sports people who go on too long. I'll miss it though - it has been all consuming. My passions are sport and people and it has combined them. I have lived my dream.''
"Timing is everything in sport and life. I want to get out while I'm still at the top of my game. There are fresh challenges that I am keen to have a crack at."
Murray Deaker won the Best Sports Presenter at the Radio Awards seven times and was a finalist on 10 other occasions. In 2009 he received the award Officer of the New Zealand Order of Merit (ONZM) for Services to Broadcasting. His radio programmes have consistently rated number one.
The Radio Network's Dallas Gurney, General Manager Talk Programming said after 27 years as a host it was the end of an era.

"Murray is an iconic sports broadcaster in New Zealand and his name and voice are synonymous with sport in this country. Whether celebrating our wins or lamenting our losses, Murray has been a constant presence on New Zealand's sporting landscape," says Gurney.

Gurney said a successor would be announced in due course.