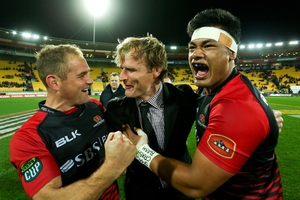 Andy Ellis spent the final two weeks of training with Canterbury as a protected species.
The halfback dislocated his shoulder in the side's final round-robin encounter with North Harbour but vowed to play through the pain as Canterbury targeted their sixth-consecutive ITM Cup crown.
Ellis started in Canterbury's 56-26 semifinal win over Auckland on October 19 then played a prominent role in their 29-13 win over Wellington on Saturday night as the Cantabrians won their sixth national provincial championship title on the bounce.
Ellis said he would have to go for a scan this week and expected he would need surgery in the near future but it's remarkable the 29-year-old was even able to lace up his boots and play.
To get on the paddock he needed a bunch of strapping, including a device he referred to as a "seatbelt", which kept his shoulder in place and ensured it wouldn't pop out again.
He managed to train for both knockout games, although he did his best to stay out of any physical contact in the weeks leading up.
"Old Georgey [Whitelock] came down my channel once and he went pretty hard," Ellis recalled. "He forgot for a second there during training this week. He apologised straight away. It was all good."
Whitelock was another player who stood out during Canterbury's win as their battle-hardened campaigners showed that finals experience and a winning culture are tough to beat.
For Wellington, Saturday's game marked the seventh time they had lost an NPC final since they last won the title in 2000.
Ellis said Canterbury were motivated throughout the week leading up to the final after they read comments that Wellington wing Alapati Leiua made following the Lions' 41-10 romp over Counties Manukau in their semifinal.
"Straight after their last game, I think it was the winger Leiua just came out and said, 'It doesn't matter who we are going to play, we are going to win. So they better bring it,"' Ellis said.
"And saying those words, that inspired us big time. The boys were so motivated and we knew we would have to bring it and I thought we did. Simple as that."
Canterbury based their campaign around Norwegian explorer Roald Amundsen's expedition to discover the South Pole in 1911.
After they received their winner's medals they gathered in the middle of Westpac Stadium as Whitelock deposited a Canterbury flag in the turf and Ellis said Amundsen's journey had served as inspiration all season.
"Basically he only marched 20 miles a day but he marched them really hard. So we knew [the final] was our last march, 20 miles, and we'd achieved what we were after.
"We knew the last 20 miles would be the toughest but also the most satisfying so by taking the flag out, it's almost symbolising that we'd reached the South Pole or winning the title."