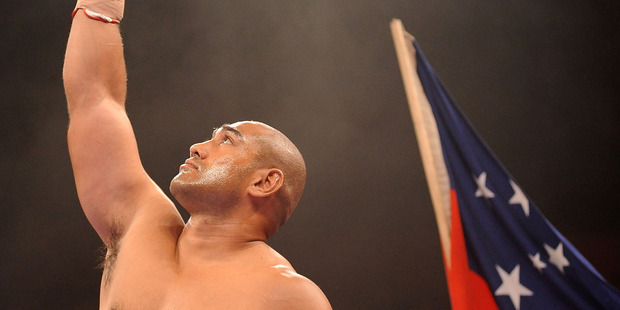 World title-seeking heavyweights are beginning to congregate in Auckland, with Samoan-born, Brisbane-based boxer Alex Leapai due to arrive next week to spar with David Tua's next opponent, highly-ranked Russian giant Alexander Ustinov.
In the strange way of boxing, sparring partner Leapai has possibly the best opportunity to get a world title shot against Wladimir Klitschko who, with brother Vitali, has dominated the division for so long.
Leapai, now 34 and the owner of a big right hand punch and a 29 wins, 4 losses and 3 draws record, is due to fight undefeated German-based Russian heavyweight Denis Boytsov, 27, on November 24 in Germany.
It is an eliminator bout for a mandatory challenge against Wladimir Klitchsko.
Leapai's strong right hand will be of obvious value to Ustinov ahead of his bout with Tua on November 16. Tua is another big puncher with a comparatively short frame - though Tua's left has deservedly earned more fame - in another bout where both boxers are jockeying for a shot at Klitschko.
That is a prospect made more likely by the fact that Ustinov hails from the K2 stable operated by the Klitschko brothers.
But Leapai has a sniff at a mandatory challenge and, even though most boxing analysts think Boytsov, the current WBO European champion, might be a step too far for him, the Russian has one of those carefully-compiled, risk-managed records of 33 fights, all wins, 26 by knockout.
As boxing aficionados often ask: has he fought anyone with a pulse?
Boytsov's best win, arguably, came over 38-year-old Dominick Guinn in April last year - a 10-round unanimous decision over a fighter who has, at one time or another, matched up against title contenders like Tomasz Adamek, Kubrat Pulev, James Toney, Tony Thompson, Audley Harrison, Eddie Chambers, Monte Barrett (conqueror of Tua) and Michael Grant. If he lost most of those bouts (he beat only Harrison and Grant), Guinn is nevertheless a handy customer.
But the point remains: Leapai has a puncher's chance and he will relish sparring against the huge Ustinov as preparation for Boytsov. Leapai's best scalp was Travis Walker, a powerful American who has also been up against contenders like Adamek, Pulev, Ruslan Chagaev and Chris Arreola (losing to all).
All except Pulev have fought and lost to Wladimir Klitschko; Pulev beat Ustinov in the latter's last fight but one, his first loss.
Leapai knocked 32-year-old Walker out two years ago and was then TKO'd himself in his biggest fight, against US heavyweight Kevin Johnson. The latter became an instant contender by holding the then highly ranked fighter Timur Ibragimov to a draw early in his career and because of his Klitschko-like heavy jab. However, he went the distance with, but was easily defeated by, Vitali Klitschko in a title bout in 2009.
There is no firm suggestion yet that the winner of Tua-Ustinov will get a title fight against Wladimir (Vitali has not fought for over a year, is now 42 and is popularly supposed to be inching into retirement). But either the enormous Ustinov (2.03m and 136kg) or the hard-punching Tua could be regarded as the kind of opponent Klitschko may seek.
The latter easily defended his title against another Russian and supposed threat, Alexander Povetkin, on October 10, but the fight was a tedious leaning-and-clinching affair of little entertainment. Klitschko is 10 title defences away from setting a world record for heavyweight title defences, is now 37, and will be looking for opponents to break Joe Louis' record of 25 consecutive title defences, set between 1937 and 1949.
But even in the likely event that Klitschko breaks that record, he will almost certainly never capture the aura of greatness that surrounds past heavyweight champions like Louis, Muhammad Ali and even Lennox Lewis - and at the moment he is still four fights away from equalling the record of 20 successful defences put together by the underrated Larry Holmes, whose crime was simply that he followed Ali as titleholder.\
The heavyweights
Wladimir Klitschko
Titles: IBF, WBO, WBA and IBO world champion
Fights: 64
Wins: 61 (51 KO)
Losses: 3
Height & weight: 1.98cm, 112kg
Denis Boytsov
Ranked 3rd in world by WBA
Titles: WBO European champion, WBA inter-continental champion
Fights: 33
Wins: 33 (26 KO)
Losses: 0
Height & weight: 1.85cm, 100kg
Alex Leapai
Ranked 9th by WBO
Titles: WBO Asia-Pacific champion; WBO Oriental champion
Fights: 36
Wins: 29 (24 KO)
Losses: 4 (3 draws)
Height & weight: 1.83m, 106kg
Alexander Ustinov
Ranked 11th by WBA, 8th by IBF
Titles: IBO inter-continental champion, EBA European champion
Fights: 29
Wins: 28 (21 KO)
Losses: 1
Height & weight: 2.02m, 136kg
David Tua
Not ranked internationally
Titles: Nil
Fights: 58
Wins: 52 (43 KO)
Losses: 4 (2 draws)
Height & weight: 1.78cm, unknown