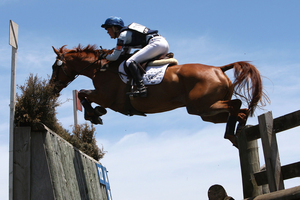 Kiwi eventer Lizzie Brown has ridden the round of her life to take the honours in the CCI3* Military Boekelo International in The Netherlands this morning.
Riding Henton Attorney General, Brown, 25, notched a career-best when she headed a quality field with more than a rail in hand.
Sir Mark Todd and Leonidas II finished third.
Brown was second after the dressage and took the lead on the cross country..
"I just focused on one step at a time,'' she said. "We got through the dressage, and I even shocked myself with the score, then focused on the cross country fence by fence.''
Clear from her mind was the calibre of the field chasing her, which also included German Olympic gold medallist Michael Jung who was just behind her going into the showjumping.
"I was pretty confident going into the showjumping because [my horse] is a very good showjumper.
When we jumped the second to last fence of the last treble everyone cheered because we had two fences in hand but then I freaked out and had the last down.''
It's been an up and down run for Brown and her steed in the UK.
"He was in such good form when I left New Zealand but been a really tough two years since, so this is a real comeback. He is such a talented horse and when he is feeling as good as he is now he proves he is one of the best ... I have always believed that.''
The combination also won two two stars this season.
Brown paid tribute to her horse's owner Tessa Grant who she said ``deserves a medal having stuck with us through thick and thin''.
Sir Mark Todd went clear in the showjumping to move up from eighth to third, having withdrawn his other mount Up n Go before the final discipline.
Just 64 of the 105-strong starting field completed the event.
- APNZ