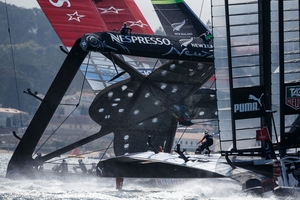 Fervour for the America's Cup seems to have dropped like Emirates Team New Zealand from that near-capsize in race eight.
Splash. This week the Auld Mug hasn't merited a whisper around the water-cooler, red socks have slipped to the back of the drawer and a straw poll of office viewers are back getting their television sporting fix on Sky Sport rather than TVNZ.
Maybe the Minister of Economic Development, Steven Joyce, should have canvassed the public for another week before delivering a welcome home oration which included lines such as: "This country and this government stands ready to be part of the next America's Cup challenge."
Perhaps thousands flocking to the waterfront decked out in team kit and waving flags might have sub-consciously been farewelling an event which has been part of the country's sporting landscape for 27 years. Still, at least we've progressed from expectorating on former All Blacks coach John Hart at Addington in 1999.
In fairness, Joyce's statement included a disclaimer as he seized on what last week was a populist vote-winner. He warned Emirates Team New Zealand syndicate boss Grant Dalton and skipper Dean Barker: "You've got a lot of work to do. I said 'work on a proposal and we'll help you out with it'."
'Work on' translates as 'get sponsors signed before they have second thoughts'. Whether the likes of hull and sail sponsors Emirates, Nespresso, Skyy Vodka, Omega and Camper think it prudent to re-sign so early is a moot point.
Obviously they'd want "their" team to win but exposure is of more importance. Did they get the global coverage they envisaged when they signed up for the 34th edition in the United States? TV3's Campbell Live ran an intriguing piece last week looking at which sponsors would be prepared to return. Pickings were lean. The goodwill that comes from backing the underdog may have reached its zenith.
The Herald on Sunday approached a couple of the country's top business minds with America's Cup connections.
Sir Stephen Tindall spent time with ETNZ during the regatta and made a handful of YouTube videos in the process. In one he asks Australian wing trimmer Glenn Ashby what it was like seeing The Warehouse-sponsored New Zealand flags on the shoreline from the water; in another he is filmed showing the weights grinders lift in the gym.
Yet the tumult of the regatta appears to have taken its toll. A spokesperson for The Warehouse founder said he "doesn't feel qualified to answer any questions on ETNZ right now".
Similarly Sir Michael Fay, the original corporate face of the Cup in 1987, was described by a spokesperson as "happy to talk at some stage" but at the moment he is "just trying to get back to a 'normal routine' after the excitement and heartbreak". Clearly this loss has cut deep.
Regardless of the event's underlying corporate ethos and the perception it is about multi-millionaires finding a way to spend their chump-change, investing $100 million of New Zealand taxpayers' money could reap economic benefits.
There would be immediate windfalls for the country's best professional sailors and the boat-building industry. Longer-term advantages could result for tourism, employment and infrastructure should the Cup return. Now we need to know whether it is "goodbye forever" or simply "au revoir".