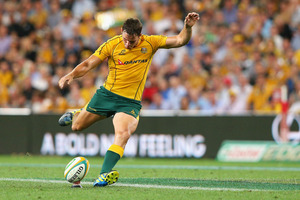 The Wallabies will relish their trip to New Zealand this week as it will, if nothing else, allow them to fit in a bit of shopping.
They are in the market for players; more specifically, New Zealand players. Preferably these players will be young, either undiscovered or rejected, but definitely willing to turn their back on New Zealand and commit to being Australian.
The Australians are either in denial about the relative success they have enjoyed by recruiting Kiwis, or they are convinced that in time, it will work out for them. Either way, there is no indication their appetite for New Zealanders has diminished.
It's a common refrain: an almost constant complaint that Australian Super Rugby franchises are recruiting ITM Cup players as aggressively, possibly more so, than New Zealand's Super Rugby sides at this time of year.
This is the perfect time for Australian teams to pounce. New Zealand's Super Rugby sides are able to contract 32 players directly and it is believed there are only about 10 contracts left to fill.
There are another 35 wider training contracts on offer but these, despite the financial improvements in recent years, don't appeal to everyone.
Enter the Australians who have developed a strong knowledge of the New Zealand system and how best to work it to meet their needs. They track the ITM Cup, see who remains without a Super Rugby contract, and it's about now that they pounce, when local players are increasingly anxious about whether they are going to be offered something here.
The big change in philosophy, however, is that they are recruiting for the long-term. Gone are the days when the Australian sides were happy to get what they could - plug a few gaps with Kiwi players, knowing that there were plenty more to snare if things didn't work out.
Now, the franchises are out to get a bona fide commitment that young Kiwis are prepared to become fair dinkum Aussies by signing three-year deals that will allow them to become Wallabies-eligible on the grounds of residency.
It's no longer all a bit of a giggle for the young players being targeted - they can't pack a bag and head off to Australia for a couple of years with a definite sense that they will be back. They are being asked to pack up and say goodbye; be prepared to wear the Western Force jersey one year and the Wallabies gold the next. As daunting and as significant as that is, few are predicting it will put off many young Kiwis.
It is expected that there will again be a significant number of young Kiwis signing with Australian Super Rugby sides in the next few weeks.
The question no one can answer is whether it's a strategy with merit. Will it eventually reap rewards for the Wallabies?
The Kiwi influence in the Wallabies team has increased in recent years and yet it has brought no tangible benefits in terms of results or performance.
Quade Cooper, Sekope Kepu and Mike Harris are three current or recent Wallabies who spent most or nearly all their formative years in New Zealand. The former two, certainly, have been viewed by the All Blacks as points of weakness and men to target.
It's not just in Australia either - over the years, there's been plenty of examples of New Zealanders being picked up by Scotland, Ireland, Wales and Italy and making no discernable difference. Kiwi players are great for the All Blacks but, a bit like Guinness, they don't travel so well.
Maybe All Black coach Steve Hansen had a point this time last year, when he said after Harris kicked all Australia's points in the 18-18 draw with the All Blacks: "It's time you [Australia] developed your own players in your own country. What I find frustrating is Australia is trying to build their game, putting more franchises in, but all they are doing is stealing our players. Develop your own players."