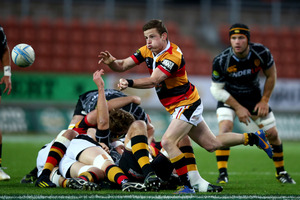 Waikato 22
Taranaki 14
With nothing but pride on the line, Waikato and Taranaki made a reasonable fist of providing a half-decent season finale.
There wasn't too much rugby to remember, but there was plenty of willing; plenty of commitment and a fightback from Taranaki that gave the final quarter an edge it never felt like having in the first 60 minutes.
An argument could be mounted that it ended up being a case of what might have been for Waikato. They came good - helped no end by the fact they were playing a relatively ordinary Taranaki side - but still, Waikato came good.
For most of the game, they had too much of everything for Taranaki. They were all over the loose ball. They had more presence in the crunchy bits and their continuity was impressive at times.
They also had more line-breakers - almost to a man in the backs they were capable of going past the first defender and making something out of nothing.
They won't have been happy with their lack of accuracy post linebreak but they did enough to get the job done. Neat offloading and ample support runners were the biggest feature of their game - or more precisely, it's what they did considerably better than Taranaki.
It was having options around the ball carrier that allowed them to score two first half tries - the second of which was a penalty try when Jarrad Hoeata made an early tackle. That second score felt like it could be critical as Waikato were playing with a stiff breeze at their backs, and while they were dominating most aspects of the contest, it had potential to all change when the teams swapped ends.
Taranaki were laboured by comparison - but with a reasonably strong wind behind them they could hoof and charge and in the blink of an eye, everything could change. But their season never really got going and last night wasn't so different.
They couldn't build any momentum or fix on a style that they wanted to play. They kicked when they could have run, ran when they could have kicked and all the time there were little mistakes.
To their credit they hung in there. They refused to be overly frustrated by their lack of success and Setu Tamanivalu was able to close the gap mid-way through the second half with a powerful charge over the line. When Andre Taylor blasted through the middle of a ruck a few minutes later, there was the prospect of the game going down to the wire.
Taranaki had the Waikato line under seige but the critical scores wouldn't come. First, at 22-14, they opted to kick a penalty with eight minutes remaining. Taylor pushed it wide.
Then with four minutes remaining Kane Barrett knocked on as he tried to drive over from short range.
It was a gallant effort but in truth Waikato deserved the win for the level of invention and creativity they brought.
Waikato 22 (S. Christie, J. Willison tries, penalty try; T. Renata pen, 2 cons) Taranaki 14 (S. Tamanivalu, A. Taylor tries; A. Taylor 2 cons).