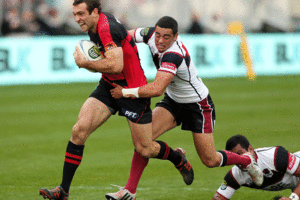 North Harbour 0
Canterbury 38
Canterbury achieved what they came to do and North Harbour probably did, too. For the visitors it was a simple enough business: they came to the North Shore to collect five points and guarantee themselves a home semifinal against Auckland.
It was never in doubt. They had the bonus point before half-time and were never going to lose from there. Canterbury played at a canter, looked like they were holding something back, and still nearly scored 50 points.
They put some phases together and scored some good tries. But there was no burning intensity to them. They didn't need it and can hardly be blamed for not finding it.
Playing the 13th-placed side in front of a virtually empty stadium - as in actually empty - wouldn't exactly capture the imagination. There was no vibe to feed off or any sense of occasion.
This was a kind of joyless procession towards an inevitable conclusion. Canterbury wanted the points and to escape without a serious injury toll which they didn't quite manage. Andy Ellis left the field early with a dislocated shoulder and Ryan Crotty appeared in some discomfort.
But it wasn't disastrous. The reason Canterbury have been the dominant provincial force for so long has much to do with their strength in depth. They brought on the lively Willi Heinz and Tom Taylor. The former was all snap and crackle while Taylor contributed with some classy touches.
There's something about Taylor - whether it be for the All Blacks, Crusaders or Canterbury, he adds something to the mix. He was composed, intelligent and deserved his try midway through the second half. It was a try that the game needed as the first 20 minutes after the break had drifted into nothing.
It was as if both teams were happy with their lot: Canterbury had their points and at 24-0 Harbour could just about convince themselves they were still in it even though they never were.
And that was the tricky thing - knowing what Harbour wanted to get out of the game. Did they ever have a serious thought about victory? Probably not. They would have settled for avoiding total humiliation. That's about as much as they could have hoped for against the five-time champions. The gulf between them really is that big.
While Canterbury could flick a switch and rely on the likes of Patrick Osborne and Luke Whitelock to bash into space and get them going forward, Harbour had nothing. Poor old Francis Saili gave everything he had but with virtually no support and none of his team-mates remotely in his class, his was a long and frustrating afternoon.
His forwards weren't quite quick enough to the breakdown or physical enough when they got there. The backs tried to move the ball but their alignment was off, their timing not quite right and their skills a little lacking.
Commitment and heart wasn't a problem but that can't compensate for skill and structural deficiencies. Canterbury go on now to face Auckland in the semifinal. Harbour, well, they have nine months to ponder whether they will ever find a way out of their rut.
North Harbour 0
Canterbury 38 (P. Osborne, T. Bleyendaal; L. Whitelock. R. Thompson; T. Taylor. W. Heinz tries; T. Bleyendaal 2 cons; T. Taylor 2 cons)