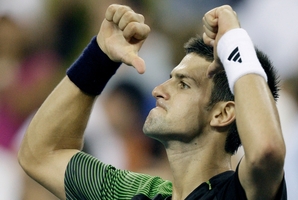 Andy Roddick has revealed he once pinned Novak Djokovic up against a locker in the changing room after a match and a fight was only prevented by the presence of the Serbian's trainer.
The altercation came after their quarter-final at the 2008 US Open, an encounter filled with tension after Roddick had previously accused Djokovic of faking injuries.
The just-displaced world No1 won in four sets and bit back at the American in an on-court interview, prompting the Flushing Meadows crowd to jeer him.
Roddick told the story on a US TV show yesterday about a "tennis player" whose name rhymes with "Schmovak Schmokovic".
"I was talking trash, and he came out and beat the pants off me, as he would, but then kind of chirped afterwards," Roddick said. "So he comes straight in, I went right up to him, had him up against the locker. But then I realised his trainer was a little bit bigger than Donovan [McNabb, an NFL player] and I kind of checked myself."
Roddick later tweeted he and Djokovic "have been OK for a long time now".
In a rare slanging match between two top players, Roddick had commented before the match on Djokovic's tendency to call for medical timeouts.
Roddick suggested Djokovic was suffering from everything from a common coughing cold to anthrax and Sars.
"If it's there, it's there," Roddick said. "It's just a lot. He's either quick to call the trainer or he's the most courageous guy of all time."
After the match Djokovic replied: "Well, obviously Andy was saying I had 16 injuries. Obviously I don't, right? I know [the fans] are already against me because they think I am faking everything. That's not nice anyhow to say in front of this crowd that I have 16 injuries and that I'm faking it."
The pair admitted the row escalated more than was needed. "Anything that's going to be said between Novak and I is going to stay between Novak and I," Roddick said. Until his appearance on television.