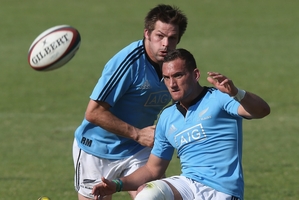 These days former All Black No 8 and coach John Mitchell calls South Africa home. He analyses test matches for the Supersport television network and has been impressed how the All Blacks style has developed further on Steve Hansen's watch.
When he looks for pointers about tomorrow's Rugby Championship decider at Ellis Park, his clipboard has narrow margins in many areas for both sides.
Unless there is another sending off, Mitchell thinks the impact of the reserves could be a telling factor.
"There may be lots of mistakes because of the pressure and fatigue so I think the use of the bench will be very timely for Steve Hansen," he said.
"South Africa need to be inspired from the start and that will bring the crowd in behind them but if the All Blacks can absorb that and build the scoreboard, they will be tough to beat."
Mitchell believes there is a great deal more growth left in the Bok side but notes they need to attend to their discipline more after a number of breaches in the championship.
Morne Steyn was not a five-eighths who attacked the line, however, the return of halfback partner Fourie du Preez gave him that option and a lot more time to plan his kicking strategies.
The side's patience was improving, they were a humble group under Heyneke Meyer, captain Jean de Villiers was a calm presence, the loose forwards were exceptional although there were areas of concern such as tighthead prop.
Ellis Park was a stadium which inspired South Africans and Mitchell was not sure if the All Blacks understood the emotional impact which would hit them in the test.
He also wondered how long this All Black side was going to sustain their run of performances when they increased their second half possession.
"But I do note they are trying to regenerate their stock while keeping their experience and they have been doing that well. I love the way they play football but they will need to be right at their best this weekend.
"This country is passionate and noisy about their nationalism and that is very important to the Springboks."
This test was the halfway stage to the next World Cup and an important psychological step towards that tournament.
"If things don't go right for the All Blacks this could turn the screws mentally for them. The consequences could be far more wide-reaching than the test loss to England last year," Mitchell added.
The 49-year-old is head of rugby at the University of Natal and has started a business coaching coaches. He likes his new routine but remains determined to return to coaching at some stage.
He analyses games relentlessly and thinks the Boks are on to a winner with their global model to pick players from overseas. That allowed Meyer to use experienced men while developing his domestic talent as well.
In his time coaching the Lions, Mitchell worked out of Ellis Park, which was not a modern stadium but carried stacks of rugby passion and history.
"When the corners are filled it is an awesome place to be, it is a cauldron and something else to experience. The area can be a bit like that too, there is always a bit of a risk if you get into trouble and don't have a mobile phone.
"Emotionally this stadium is part of South Africa, it is part of their soul because of the 1995 World Cup final. Nelson Mandela, Francois Pienaar and all those links, the ground is part of the Springboks rugby psyche.
"Whoever harnesses the emotion of this occasion and uses their skills will prosper."