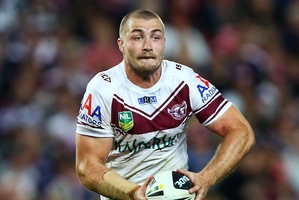 In a drawer at Kieran Foran's North Sydney home, is a ring.
It's made from nine-carat gold and encrusted with 16 diamonds and worth about $6000, but is priceless to those who have one.
Foran has this week found himself drawn to looking at the ring he earned for being a part of the 2011 Manly side which beat the Warriors 24-10 in the grand final.
"Every now and then I pull it out and have a look at it just to remind me of the feeling," he says.
Foran will chase another ring on Sunday, when his Sea Eagles side tackle near neighbours Sydney Roosters in the NRL grand final. It's a match-up as good as any in recent times and the 23-year-old can't quite believe he will play in another final.
"It's crazy," he admits. "You hear about players who go through their whole careers and never play in a grand final or never win a competition.
To have already won one and now be playing in my second, I feel very fortunate. I can't believe how lucky I am to be a part of such a great footy club with so many great players."
Foran can consider himself one of those. He is among the top tier of not only five-eighths but also players in the game and last month was recognised by his teammates as their player of the year.
Together with Daly Cherry-Evans, they are widely acknowledged as the best halves combination in the NRL, which is scary for oppositions given the pair are both in their early 20s and have vowed to remain at Manly for many more years.
What sets the Kiwis No 6 out from others is his maturity, toughness and competitiveness. He's not afraid to take the ball to the line or hurl his 91kg frame at players considerably larger than him and it's won him plenty of admirers.
Manly patriarch Ken Arthurson said Foran reminded him of Bob Fulton, who was an original inductee into the Immortals club, telling the Australian "he just doesn't know how to give in that kid".
Former Manly hooker Max Krilich, who was part of the much-vaunted Sea Eagles side of 1976 that won the title despite playing six games in 24 days, said Foran could finish his career as the toughest Sea Eagle ever.
"While Geoff Toovey is the toughest bloke this club has produced, by the end of Foran's career you'll probably toss a coin to see which one of them has it," Krilich told the Daily Telegraph. "The way that kid plays, toughness is just built into him."
Foran has actually toned things down this year. He vowed to change his game after talking to the coaching staff worried his aggressive "kamikaze" tackling style was doing damage to his body as well as his attacking game.
"Throwing everything into people is something I love doing but it's not necessarily what the side needs," he says.
"They need me to be fresh and to attack and be on the ball. If I'm too stuffed because I have been throwing my body at blokes, then I'm not doing my best for the team.
"I haven't shied away completely. I still love the physical side of it and it will be no different this Sunday."
If the match is anything like the last time the two sides met, it will be fierce. The Roosters beat the Sea Eagles 4-0 three weeks ago in the first round of the playoffs in a match with the lowest scoreline in a finals fixture in 21 years. It was a game Manly dominated statistically except on the scoreboard.
It was also a match that was supposed to derail Manly's title aspirations because they would be too tired. They outlasted Cronulla 20-18 and then came back from a 14-0 deficit to oust the Rabbitohs 30-20.
At the centre of those wins were Cherry-Evans and Foran. Little is often said between them during games because they have a knack of knowing what the other is about to do.
One of the only times Cherry-Evans was surprised was when Foran didn't join Des Hasler at the Bulldogs - Foran had a clause in his contract allowing him to leave if Hasler left the Sea Eagles - on a three-year deal worth A$600,000 ($677,000) a season.
But Foran opted to remain at the club that signed him as a 16-year-old. He didn't want to walk away from his teammates, his friends.
The fellowship of the ring, one might say.
- APNZ