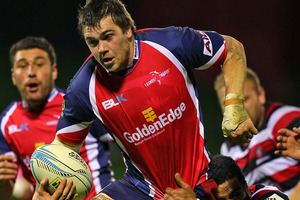 Squad depth and defence are crucial parts of modern rugby. The All Blacks preach those values as do the Super 15 franchises.
Those values are playing a greater role in the ITM Cup too as it travels deeper into the competition.
Tasman showed the benefits of most rugby components tonight in Nelson as they belted out another victory in front of their appreciative supporters.
They began the demolition early and brought too many layers of variation, skill and power for their Waikato opponents.
Waikato practised their defensive systems for some time in their pre-match routines. Who knows whether it helped but Tasman gave them a load more rehearsal work when the match began.
It was a top night for rugby, fine and fast and Tasman were determined to be creative. They were disciplined about their tactics too even after obvious early signs there was only going to be one result.
Captain Sam Christie set the tone with another committed shift on the open side flank, his mates followed and Tasman collected their bonus point try soon after the interval when Joe Wheeler crashed over.
That prompted Waikato to inject new men from the bench with some immediate impact. There was improved cohesion and when hooker Vance Elliott made some metres, loosehead prop Latu Talakai drove across the line.
The resurgence was temporary as three Tasman players - Tom Marshall, Liam Squire and James Lowe - who have signed for the Chiefs next season added tries.
There was one sour note late when Alex Ainlie was sent off for a tip tackle in his 50th match for Tasman. Waikato took advantage with two more tries for a bonus point.
Tasman (Liam Squire 2, Mitchell Scott, Robbie Malneek, Tom Marshall, Joe Wheeler, James Lowe, Tevita Kolomatangi, tries; Marty Banks 6 con, 4 pen)
Waikato (Vance Elliott, Latu Talakai, Josh Tyrell, Toby Smith, tries; Trent Renata 4 con) Halftime: 33-7
Try of the Match: The first from Tasman was sharp with quality interplay between forwards and backs unleashing Mitchell Scott at the end of a 70m movement.
Best player: Sam Christie: The man plays like he has a spare motor strapped to his back. Indefatigable, dogged, relentless - he has all the best qualities of a modern flanker.