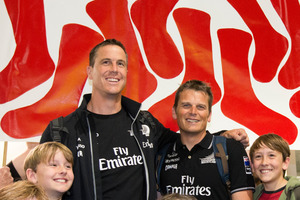 Emirates Team New Zealand will be officially welcomed home with a special event at Auckland's viaduct this Friday.
Supercity mayor Len Brown said the team would be at Shed 10 soon after midday.
Members of the public could begin queuing for entry at 11am, with the doors set to open at 11.30am.
A powhiri set for midday will kick off the event, followed by speeches from a variety of people including Dean Barker and Grant Dalton.
Those who don't make it into Shed 10 will be able to watch the event on big screens in the The Cloud and on Queens Wharf.
TVNZ would also be livestreaming the event.
Mr Brown said there had been "overwhelming feedback'' from Aucklanders keen to acknowledge Team New Zealand's incredible effort on the water.
"I'm really proud of the team, and I know Aucklanders will want to turn out in numbers to welcome them home.
"While we didn't win, we showed why New Zealand is among the best sailing nations in the world, both for the innovation that goes into building our boats, and the skill of our sailors,'' he said.
Dave Dobbyn would also be at the event, performing Welcome Home.
Following the formalities, members of Team New Zealand will be taken by boat on a brief trip around the Auckland waterfront. They will go past Queens Wharf, Halsey Wharf and into the Viaduct.
Welcome Home Team New Zealand, Friday 4 October:
* Doors to Shed 10 open at 11.30am
* Queuing for entry will open at 11am
* Powhiri at midday to welcome the team
* Series of speeches, including talks from Dean Barker and Grant Dalton
* Team New Zealand to depart Shed 10 by boat and be taken past Queens Wharf, Princes Wharf, Halsey Wharf and into the Viaduct
Source: Auckland Council
- APNZ