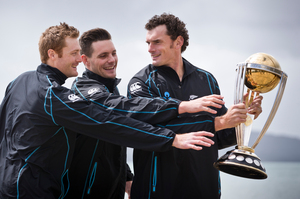 Cricket World Cup officials today tick over the 500-day countdown to the start of the 2015 tournament in Christchurch.
And for planners, who have timetables to work to, scheduling is paramount. However from a players' perspective it is still a distant point on their programme.
"There's always planning and building up towards it but you've got to take it one game at a time," New Zealand batsman Martin Guptill said.
"If you get too far ahead of yourself you lose sight of what you're doing in the now."
In New Zealand's case there's a tour to Bangladesh starting on Friday, another ODI series in Sri Lanka following straight after before visits by the West Indies and India in the home summer.
Still, it doesn't hurt to note the date of the opening game, February 14, when New Zealand play Sri Lanka at the newly constructed Hagley Park.
Guptill and fellow Auckland internationals Mitchell McClenaghan and Kyle Mills marked the countdown with a group of North Shore schoolchildren, and the trophy, at Takapuna Beach this week.
Guptill, who turned 27 on Monday, is recovering from hand and ankle injuries, which have sidelined him from the Bangladesh tour.
He is about two weeks off batting and completed surgery on the ankle three weeks ago. He hopes to start strength work on his bike this week.
On the tour to England in the middle of the year, Guptill hit back-to-back centuries to carry New Zealand to a 2-1 ODI series win, including a terrific 189 not out at Southampton.
It's that sort of form New Zealand will be hoping to see more of, particularly at the cup.
Lively left armer McClenaghan, whose first 10 ODIs have yielded 29 wickets at just 16.51 apiece, wants to make sure he uses all his available opportunities to press his case for a place in the cup squad.