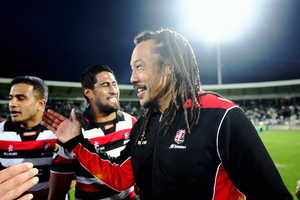 Counties Manukau 31
Bay of Plenty 30
Just as Tana Umaga was no doubt putting the finishing touches on a speech bemoaning the new scrum laws, to be delivered, perhaps, in the sanctity of the referees' rooms, Bay of Plenty found a new way to lose, sparing him the trouble.
In an encounter that had cracking bookends and a whole lot of not much in between, ice-cool first five-eighth Baden Kerr capitalised on Maritino Nemani's 80th minute brain
fade to secure four points for Counties Manukau and condemn Bay of Plenty, most probably, to life in the ITM Cup Championship in 2014.
Just minutes earlier Bay had breathed life into their season, harassing Counties'
scrum ball, as they had all evening, and scoring what appeared the decisive try to Kane Hames. It was not to be.
When their set-piece is working and they're operating off the front foot, Counties Manukau can make the art of attacking rugby look ridiculously simple.
Before 15 minutes was on the clock, Ma'ama Vaipulu had scored in the corner after some outstanding lead-up work, and Fritz Lee had barrelled over as wave after wave of big men buckled the Bay's barricades.
Rather than break, the Bay, playing at Rotorua, caught a whiff of desperation.
Setting up camp in the Counties half, the Bay took advantage of the visitor's inability to take care of the basics. Southland might not appeal as the most intimidating of Shield challengers, but they are the one team standing between the Log o' Wood and a summer holiday in Pukekohe.
They will already be formulating a game plan based around the set-piece and hoisting the ball high.
Counties do many things well: scrummaging on their own ball is not one of them; defending the lineout drive another.
A lack of adherence to the basics should have cost Counties. Instead they can start preparing for that final Shield challenge and an inevitable semifinal with a couple of fairly glaring ''work-ons''.
Counties Manukau (Ma'ama Vaipulu, Fritz Lee, Hika Elliot tries; Baden Kerr 4 pen 2 con)
Bay of Plenty (Beau Robinson, Nathan Harris, Kane Hames tries; Willie Ripia 3 pen 3 con).
HT: 15-10