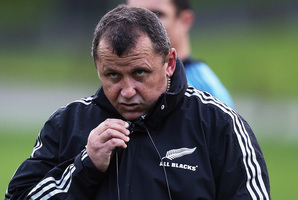 It's getting close to decision time for the New Zealand Rugby Union on whether they extend the contracts of the All Blacks wider coaching team. It seems like a no-brainer - lock them in: Ian Foster, Brian McLean, Mike Cron and Mick Byrne.
Conditioning coach Nick Gill is a must to have on board through to 2015 as well and, in fact, the whole lot can stay if that's what they want.
Reasons to fire them are nil. Reasons to keep them on are too many to mention, none, though, more valid than the fact head coach Steve Hansen, whose contract was extended earlier this year, wants his team to stay as it is.
That should be enough to ensure his minions survive but for the sake of painting the full picture, key among the other reasons is that results suggest every man is pulling his weight.
Foster has been a surprise in his role as assistant. He arrived in the job amid considerable public uncertainty.
His long tenure as head coach at the Chiefs had been one of sustained under performance - a point exacerbated when his successor, Dave Rennie, led the Chiefs to the title nine months after taking over.
To many, the underwhelming Foster era led to conclusions being reached that the former first-fivewas a bizarre and ultimately doomed choice as Hansen's sidekick.
As it has turned out, Foster has shown he has more to offer as an assistant than he did as a head coach.
His predecessor, Wayne Smith, was probably much the same.
That's just how it is, some people have specialist skills that shine in one role, bomb in another.
Foster has been instrumental in straightening the All Black attack: the backs run with their shoulders square to the touchline in a way they weren't in 2011.
There's width and innovation to support the high basic execution and not a complaint to be had about the way the backs have operated in 2013.
Credit also needs to be slung Foster's way for the development of Aaron Cruden and Beauden Barrett.
Plenty can claim a stake in developing the duo in the last 18months,but Foster's role has been significant.
For anyone who doubts his ability, they need to ponder whether a senior All Black leadership group of players withmore than 500 test caps, would tolerate a fraud?
An obvious phoney with nothing to add would be wheedled out in days.
Cron has made an equally impressive transition from specialist to assistant coach with responsibility for the forwards.
The pack aren't the finished business by any means but they bounced the French, wiped the Australians and haven't been given the credit they deserve for the way they took on the South Africans physically.
Defensively, the All Blacks have scrambled better than any other side. Structurally they are solid and while they have had a few lapses, there'd be little doubt among the players that McLean is adding something.
Kick and chase has actually become the All Blacks' trump card in the last 12 months - the thing they do best and better than any other team.
That's been driven by skills coach Mick Byrne whose involvement stretches back to 2005.
The All Blacks would be a little lost without him and more so without Gill who has sculpted and shaped the squad, almost to a man, into leaner, stronger, faster athletes.
This is a side that can go 80 minutes and the New Zealand Rugby Union would be frankly daft, possibly even mad, not to rubber stamp contract extensions for the whole crew.
There will inevitably be some interest at board level to see what happens in the next two weeks.
This is the toughest stretch of the season and each member of the coaching team will be under pressure to perform.
It wouldn't be right to put too much weighting on today and next Sunday - there's 22 other tests that says this coaching team is the right one to defend the World Cup.