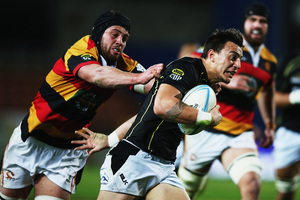 Wellington 19
Waikato 14
Pacesetting Wellington have plenty of frills but it was their defence which won the day as they maintained their unbeaten record this season, against Waikato in Hamilton.
Battling Waikato had the position but not the slick attack in the final stages of the ITM Cup premiership clash, as Wellington landed their eighth straight victory, by 19 - 14.
Wellington were all over Waikato in the first half but never mind, they still had to play second fiddle to one of the best sights in world rugby - Ben Tameifuna with ball in hand, goal line in sight.
The home crowd had to wait until close to halftime before witnessing this happy meeting, but it was worth the wait.
Waikato had launched its only decent rumble of the night and when the mighty 140kg Tameifuna got the ball, there were three players in his path.
That didn't last long as he steamrolled ahead.
Wellington had plenty of decent tricks of their own.
Victor Vito's beautifully timed and presented pass led to the Lions' first try.
They laid the charm on thick for the second as well, with fullback Joe Hill completing the try with a nice feint, although Waikato helped by adding a few players to the paltry spectator numbers.
The second half produced an early highlight. Waikato's little halfback Brad Weber scuttled off on a fabulous break, only to find the Lions prop Jeffery Toomaga-Allen standing in the back field. Toomaga-Allen took hold of his prey and drove Webber back most of the distance from which he had come.
But that was nothing compared to the cracking Wellington try that followed, with the scorer Ardie Savea involved twice, and wing Ambrose Curtis giving a top notch final pass in a tackle.

Wellington 19 (Afa Fa'atau, Joe Hill, Ardie Savea tries; Lima Sopoaga 2 con), Waikato 14 (Ben Tameifuna try; Trent Renata 3 pen).
Halftime: 14 - 8.