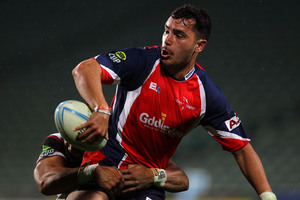 Little ventured, something gained.
The form book ruled as Tasman beat Northland in Whangarei, but the Makos didn't enhance their status as championship division favourites.
Seven Marty Banks penalties and a late runaway try secured the 28 - 13 ITM Cup victory, but division leaders Tasman trundled around in third gear and got dangerously close to second mainly.
Bottom-placed Northland couldn't take advantage, although they would have the edge on a small highlights reel.
The match began as it meant to go on.
The first half had very little to recommend it apart from a booming 55 metre penalty to Banks until the half-hour mark.
All that flowed were penalties in Northland's direction, and mistakes. These included misdirected Northland kickoffs, and a comical quick penalty error from Tasman halfback Billy Guyton in front of his posts.
Northland finally broke the shackles with an impromptu try, freeing the ball in tackles with Rene Ranger providing the last pass to flying fullback Matt Wright.
Against what had happened so far, it was a fair old masterpiece, even if it required a fortunate bounce of the ball from a Tasman shoulder.
This inspired new energy from the Makos but only penalty goals to Banks ensued.
The visitors were building a scrum advantage though, and with a 12 - 9 lead they were nicely set for the second half.
The second half started with much more promise, highlighted by a superb one-handed offload from Tasman lock Tevita Cavubati to Robbie Malneek although video referee Peter Nock found that Northland had successfully kept the fullback at bay.
The final reward was Banks' fifth penalty goal a disappointing reward but Tasman were starting to hum while Northland were tying up. But all that developed was a little tit for tat penalty shootout.
Then came another big moment for video referee Nock and most would say he got the call right. A long range Tasman score that would have settled the issue was rubbed out for a knock on by Tasman wing Bryce Heem.
Tasman 28 (Marty Banks try; con, 7 pen), Northland 13 (Matt Wright try, Daniel Hawkins con, 2 pen). Halftime: 12 - 10.