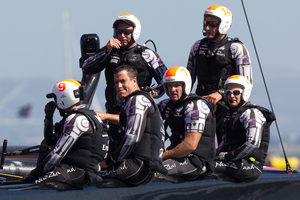 Herald yachting writers Dana Johannsen and Paul Lewis answer the burning questions from today's action in the America's Cup.
1. Could Team NZ have held off Oracle with better tactics on leg 3 of Race 18?
DJ: If Team NZ had crossed rather than try to tack on top of them, I suspect at the next cross Oracle would have been ahead anyway as they were heading towards Alcatraz where they would have benefited from the tidal relief. That, combined with better boat speed would have seen them sail right around them.
PL: Doubtful - it'll be interesting to hear what the sailors say. If they'd gone through with tacking on top of OTUSA, they could have ended up in worse water and wind. The main problem seemed to be OTUSA's burst of speed on foils, carrying them clear.
2. Aside from gear breakage on Oracle, are there any circumstances under which Team NZ can beat the American boat tomorrow?
DJ: Team NZ would have to sail an absolutely perfect race, and hope Oracle make errors. Can't see it happening myself. Oracle are faster and sailing a lot better.
PL: An accident, an act of God and a miracle piece of boat engineering (where have I heard that before...?)
3. What's for dinner tonight, and will it feel like the Last Supper?
DJ: They may as well just get stuck into the sponsors product while they still have them.
PL: Disappointment Soup, followed by Frustration Fritters, a main course of Sour-kraut & Scorned Beef, all washed down with a pint of bitter...and then a sporting nod in the direction of Oracle Team USA and a superb comeback...