Racing's rebirth in the People's Republic lacks one thing we take for granted in the West.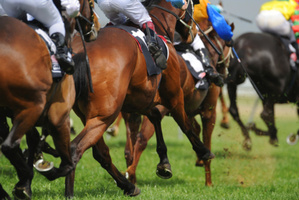 The richest horse race ever held in China was won in spectacular fashion on Saturday.
But I'm not going to bother telling you the winner's name. It is irrelevant.
The fact she won the $1 million yuan ($200,000) mile race by 70m suggests she may have some ability.
But you will almost certainly never hear of her again and even if you do you won't be able to bet on her.
Because when you go to the races in China you can't bet.
And the imported horses who dominated Saturday's historic meeting on the outskirts of Inner Mongolia's capital Hohhot are unlikely to ever leave there.
Which raises the question: If a horse wins China's biggest race by almost the length of a rugby field and nobody bet on it or saw it, did it really happen?
The small crowd, disproportionately loaded with international racing VIPs, who witnessed Saturday's meeting know it happened and they will never forget it.
Because racing in Inner Mongolia, a small territory of China home to a mere 24 million people, is unforgettable.
Saturday's meeting contained eight races, four comprising international imports, four of locals.
The local horses wouldn't win a race anywhere else on the planet, especially the one who died in race seven and was unceremoniously helped off the track by a giant front-end loader as the presentation ceremony went on.
The internationals were a mixture of Australasian and Europeans cast-offs, exiled to China to spark a racing industry the world's racing bosses pray will explode into a wagering powerhouse.
In theory it makes sense. Cross the Chinese love of gambling with a billion people and you can see why serious players from Hong Kong, Europe, Australia and Dubai all want in on the ground floor.
But Saturday's National Cup meeting isn't the ground floor. More like a very messy basement.
It was originally to be staged at what is being touted as the wonder equine centre being build at Tianjin but that facility wasn't ready so the meeting was moved to what is basically a training track outside Hohhot.
Kinda like moving the Karaka Million meeting from Ellerslie to Hokitika, if Hokitika was a rough dirt track with no grandstand.
The VIPs were housed in the muddy corporate area, comprising of dozens of yirds, traditional Mongolia tents, which were linked by a series of rubber mats with rugs on them.
It was equal parts embarrassing and amusing but somewhat saved by the army of local helpers in stunning traditional Mongolian dress.
Like human dolls from another era, they were fascinating. The only place on earth you might find people smiling this much in a muddy paddock would be the Glastonbury music festival.
There was a public area, too, with maybe 500 customers, many more interested in the white-skinned suit wearers as they were the racing.
So interested in fact that parents would hand you their babies to hold so they could then take a photo of them with the funny-looking foreigner.
That would usually qualify as the weirdest thing to happen on a racetrack but not on Saturday.
The international jockeys raced laughingly loosely, sometimes getting eight wide, to avoid any interference because most couldn't get insurance so weren't taking any risks. They clearly got together and agreed nobody would try anything heroic.
The sight of seeing hoops like brilliant Brazilian Joao Moriera, who owns Singapore racing and is about to conquer Hong Kong, riding races like they were trials was almost as surreal as the baby pictures.
But with no betting, nobody actually seemed to mind. As the winner decimated her rivals in the National Cup, a small pocket of local women who had been drinking in a yird all day cheered. Most on track remained silent.
As funny as it all sounds, attempts to reignite racing in China are a serious business with potentially mind-boggling financial benefits if successful.
Yet, at present, it looks an amateurish ego-play for super-rich locals that will only gain legitimacy if the Chinese Government allows betting, whether internally or more likely through an off-shore partner who could contribute back to them, like the Hong Kong Jockey Club.
Some locals are hopeful that next year being the Year of the Horse, the Government may soften its no gambling policy and smile on racing.
But I wouldn't bet on it. Neither will anybody else in China any time soon.
Hoofnote: In case you do care, the China National Cup was won by Beat Of The Drum from Ireland. She won by more than four seconds, galloping the mile in a 1:48.5. Yes, really.