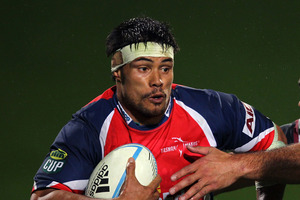 Tasman 18
Hawkes Bay 9
Tasman's victory over Hawkes Bay owed much to their first-half effort and a deft touch from lock Joe Wheeler in the second half.
Playing into a strong wind at Nelson's Trafalgar Park, Tasman were determined to rely on their knack for retaining possession rather than kicking the ball away and the plan was executed superbly.
Flanker and captain Shane Christie scored Tasman's first-half try from a lineout drive, his close-range effort giving his side the lead after Ihaia West's penalty.
Another West penalty gave Hawkes Bay the halftime lead but Tasman would have been pleased with how they were progressing. Their love of the offload meant they regularly made inroads into the Bay's defence, with the home side's own tackling generally on the mark.
Tom Marshall's penalty after the break gave Tasman the lead again, only for West to again put the visitors ahead with one of his own.
It was here that Tasman appeared to take stock and reprise their early game plan of using the ball rather than kicking it, however, and two pieces of magic from Wheeler sparked them back into life.
In broken play on the halfway line, Wheeler sold a dummy, charged upfield and kicked ahead for No8 Liam Squire to score. Squire almost scored another try in a similar position near the dead ball line when charging down an attempted West clearance.
A penalty from replacement halfback Billy Guyton sealed it for Tasman, who overtook the Bay for the championship lead.
Captain Christie, however, was far from happy afterwards. "We're happy with the win, but not with the way we played. We've got some discipline [issues] and a few messy errors to clean up.
"We're just trying to stay ahead of the bunch so we can get a home semifinal."
Tasman lock Alex Ainley and Hawkes Bay halfback Chris Eaton were sinbinned in the first half after trading punches.
Tasman hooker Quentin MacDonald had a strong game in his 50th for the province.
Tasman 18 (Shane Christie, Liam Squire tries; Tom Marshall pen, Billy Guyton pen, con) Hawkes Bay 9 (Ihaia West 3 pen)
Halftime: 6-5 Hawkes Bay.
Play of the day: Joe Wheeler's kick ahead for Liam Squire's try. Locks generally shouldn't put boot to ball but this one paid off spectacularly.
Hard hitter: Hawkes Bay captain and flanker Mike Coman. Showed out early with a couple of bone-shuddering tackles. Lead from the front as usual.
- APNZ