Convincing win by Oracle gives team confidence of comeback against odds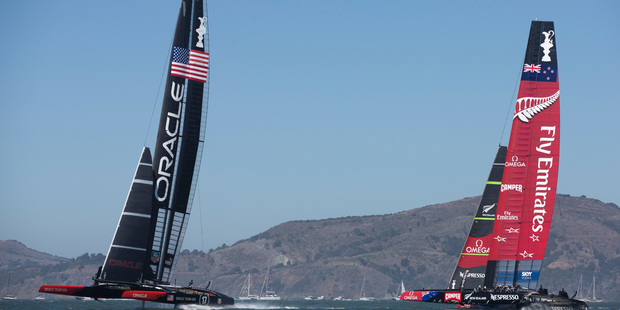 The percentages are still with Team New Zealand but, for the first time yesterday, it was possible to sneak a sideways, respectful glance at Oracle Team USA... and wonder.
Could they come back from here? At present, they seem to have the faster boat although, in this regatta, appearances can be deceiving.
Oracle skipper Jimmy Spithill has earned some bad press from some quarters for being a brash, cocky Aussie but it must be said his fighting talk has been backed up with... fighting, as in Race 12 yesterday.
If you exclude the penalties levied by the international jury for the cheating saga, the score is 8-4. Spithill was back in bullish mode yesterday but those giving him a hard time might reflect that there is a difference between just gobbing off and actually backing it up.
Race 12 was Oracle Team USA's best of the series. They convincingly won the pre-start and stayed in control over all legs, winning by 31s. They were also convincing on the vital third and upwind leg, losing only 1.5s to team NZ.
"It's the best we have sailed so far," said Spithill. "We are foiling upwind and making zero mistakes; it was a very satisfying race ...
"Like Dean [Barker] has said, if you get behind in a race like that it is hard to get past. We got a nice jump off the line and Ben [Ainslie] and Tommy [Slingsby] sailed a really nice race."
Asked if Oracle could win seven more times and pull off a miraculous comeback, Spithill said: "Yes, we can win seven more. When we started this regatta, Dean Barker and those guys had a significant edge upwind. Through a lot of hard work from people like our design team, our engineers and our shore team, we have been able to improve our performance - to the point where we think we are competitive.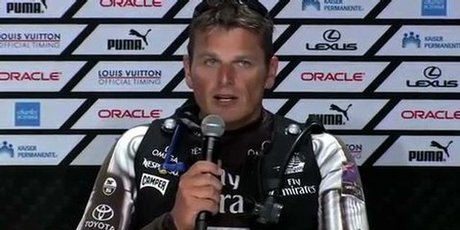 "The guys are sailing the boat well and they believe we can win it. We will have to make some more changes but that's the name of the game - you have to keep developing these boats well all the way through. We are in a good situation now and we have almost got nothing to lose. We just have to go out there and win races."
Spithill perhaps gets some mud flung at him because he works the angles in PR stunts like the squabble over Oracle asking Team NZ to increase the wind limits. He also responds to patsy questions like whether he enjoyed making a nation of Kiwis squirm - "I enjoy every moment of it," he said, milking it.
But that's just mind games, poke-'em-in-the-ribs stuff familiar to any Kiwi with an Australian friend. It's meant to unsettle Barker and co but Barker is so focused right now that you could stick a lighted match in his ear and he wouldn't blink.
Oracle's new-found wind speed upwind (in about 15 knots of breeze) is concerning and food for thought when ruminating on a 7-race comeback - though there are explanations. Team NZ configured their boat for slightly lesser winds than ended up applying in Race 12 and Race 13 was again, frustratingly, postponed because the wind limits were exceeded. That may well have told on New Zealand's upwind speed.
It was downwind that Oracle made the biggest gains yesterday, though they still returned an impressive performance upwind, hitting 36 knots at one point.
It was the pre-start that laid the foundations for the win - Barker attacking Spithill aggressively only to find that the Australian put a hook on him that tied the New Zealanders' hands; the Oracle boat scampered away from the line and round the first mark and was 11s ahead, having gained on the first run, as they turned upwind. They lost a touch to the Kiwis on the beat but then strode away, gaining about 19s on leg 4 and the victory was confirmed.
It's anyone's guess whether Oracle can keep this going. The percentages are against them. One mistake and it's all over. The Kiwis made two yesterday - in the pre-start and setting up their boat wrong and it cost them their biggest loss outside that heart-stopping near-capsize.
But Spithill remains upbeat: "I think we are making our best comeback right now, to be honest. We have got one hell of a fight on our hands; it's a big challenge ...
"I think the thing that has really given the team a lot of energy and momentum lately is the boat. From where we stated this regatta to where we are now, you can clearly see the guys on the boat believe they have the tool to get the job done.
"We still think we can improve it, we still think there's things to do - and that's the biggest thing I have noticed.
"There's also the fact that we are at match point; the guys have almost become excited by it and they are having to go at 110 per cent and leave nothing in the tank. I have noticed a big shift."