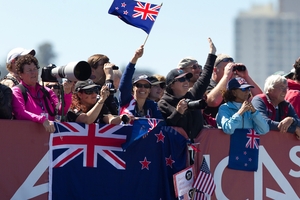 Fans' elation at Team NZ's perfect start in the second race yesterday was shortlived. Photo / Brett Phibbs
Emirates Team New Zealand are unlikely to have the Cup prised from their lips this morning.
The advance weather report was rather like yesterday's - between 13 and 17 knots of wind, suggesting that one race - and probably both - will more than likely be held in conditions which favour the Kiwi boat.
There could be some doubt about the second as San Francisco's predictable winds gather strength in the afternoon. An ebb tide is still running but it should be of light flow.
Much of New Zealand threw their toys from the cot when Race 12 - likely to have been THE race - was called off after Team NZ skipper, Dean Barker, had made a perfect start and Aotearoa charged in search of glory.
It turned out that regatta director Iain Murray - how this bluff Aussie must be having a quiet smile at tormenting so many Kiwis - called the race off 33s before the start (not that it makes any difference).
But it took a while for the news to filter through to the boats and the TV commentators and those jumping on their sofas at home and waving cushions like flags were left feeling a bit silly as the wind limits again interfered.
Barker rocketed off the start and around the first mark and was heading downwind when the call came in. Before that, he did something he'd not done this whole regatta. He sneaked a look behind, seeking the opposition.
For the whole of the regatta, his attention has been focused forwards. Tactician Ray Davies, his eyes and ears, keeps tabs on myriad details - wind shifts, currents and the whereabouts and activities of Oracle Team USA.
But when he felt Oracle's presence missing, Barker couldn't resist it. They weren't even close. The Cup could be ours ... Oh.
On the American boat, tactician Sir Ben Ainslie heard the call that the race had been postponed earlier but chose to ignore for it for a while. He later explained they had been right in the middle of the pre-start and he had not wished to press the "abort" button and become the man who lost the America's Cup through a wrong radio call.
Off the water, Barker and Davies were as professionally cool and detached about it all as they have been all regatta. No, it wasn't frustrating. It's a long regatta and the rules are what they are and you get days like that.
But the striking thing about Race 11, taking the Kiwis to within one race win of claiming the America's Cup, was the New Zealand boat was back in the conditions it likes best and the crew were hitting their sailing targets.
In about 18 knots of breeze, Barker played a superb cat and mouse game at the start, knocking Oracle skipper Jimmy Spithill off his stride. They won the sprint to the reaching mark by 3s, extended their lead to 6s after a helter-skelter run downwind and turned into the vital upwind leg.
Oracle have been carving chunks off Team NZ's upwind superiority in recent races - even outdoing them in strong winds - so it was interesting to note Team NZ had the edge in boat speed and handling, increasing their lead to 17s.
They won by 15s at the end, never seriously troubled, although Oracle put in a fetching sprint straight down the course to try to catch up and throw the New Zealanders into a pressure situation. It nearly worked but Oracle had one more gybe to do; it didn't go well. Both yachts were slow round the mark but Oracle were slower.
It was an impressive sail by Team NZ; it brought the campaign to the brink and nearly drove a country to drink. But today could be it.
Wind watch
* Moderate breezes are forecast for San Francisco Bay today.
* A breeze of between 13 and 17 knots is expected.
* The Bay will be at ebb tide during the races, but tide strength is diminishing which will mean the wind limits will not be as restrictive as they have been.
Go the Kiwis!
"It's been riveting, mate ... just unbelievable. My challenge is to bring home the bacon. And if anyone can, a Kiwi can!"
Sir Peter Leitch, the Mad Butcher
"One race to go until the cup's back home. Shot boys."
All Black Dan Carter
"Better go buy me some red socks!"
Blues player Joe Edwards
"Finish them off"
NZRU CEO Steve Tew
"Good on you, boys. You are doing really well and have the support of NZ behind. You can do it. Looking forward to seeing the cup back in NZ. Keep up the good work - only one more to go and you can do it."
Louise Davey
"We are so proud of you guys - not just for your racing skills, but for how calm you stay during a challenge and your ethic during the whole competition. Keep it up boys. One more win and bring her home to us. We are leaning with you all!"
Karyn
"Bring it home. Looking forward to a decent parade."
Fraser Smith
"Fantastic win today in race one and there are no superlatives for that start in race 2. Wicked! Give 'em hell, boys."
WolfgangKrause
"Karma is coming, Russ, and it's a beautiful thing. Come on Team NZ, just one more!"
David Davies
"Let's paint the town RED tomorrow! I believe you guys can do this. Socks are ready, red wine as well!"
Mr E Misteress